Front Office Staff
Isaac Olson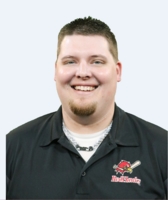 Box Office Manager
iolson@fmredhawks.com
Hometown: Fargo, ND
Resides: Fargo, ND
College: MSU-Moorhead
RedHawks Debut: April, 2012
Bats: Right
Throws: Right
Favorite Color: Red
Favorite Food: Italian
Hobbies: Amateur baseball, softball, mens league hockey,
Favorite TV Shows: Chicago Fire/P.D.
Favorite Movies: Tommy Boy, Bull Durham, *61
Favorite Sports Moment: Playing in Tampa FL for spring training with MSUM club baseball.
Worst Sports Moment: Scoring own goals in hockey.
Favorite non-RedHawks Sports Team: Chicago Cubs
Other Interests: House projects, spending time with family, visiting other ballparks.