Front Office Staff
Brad Thom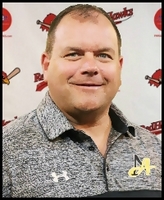 President & Chief Executive Officer
Email : Brad Thom
Hometown: Fergus Falls, MN
Resides: Audubon, MN
College: Concordia College (MN)
RedHawks Debut: September, 2002
Favorite TV Shows: Survivor! It's been a family tradition to watch together each week, since it's first season.
Favorite Sports Moment: Participating in the Minnesota State Swimming Meet
Brad Thom has been with the RedHawks since 2002. Prior to his career with the RedHawks, Thom was involved in the restaurant business, managing The Treetop Restaurant & Lounge in Moorhead, MN, and also owned a floral shop, Roses To Go, with his wife, Kathy. He also held positions at KFGO radio. Outside of baseball, Thom enjoys traveling and hunting/fishing. A graduate from Concordia (MN) College in 1991 with a degree in Business and Environmental Studies, Thom resides in Audubon, MN, with his wife, Kathy, whom he met on a blind date in 1988! He has two grown children, Larissa and William (Kerri) and one grandchild, Milo.