One Community. One Team.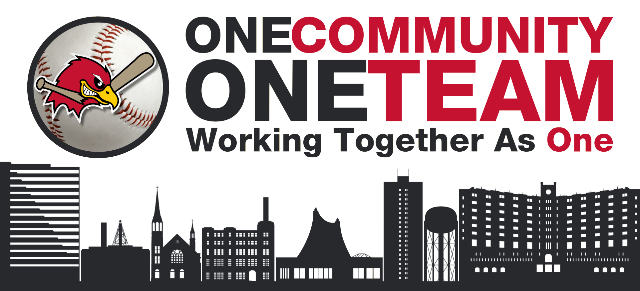 The RedHawks have been providing affordable family fun every summer since 1996, and it wouldn't be possible without the help of all our area business partners. During this difficult time, we would like to highlight some local businesses that have made RedHawks Baseball possible over the years. This page will serve as a message board where groups can promote special deals, hours of operation, ways of support, and much more. Baseball will return to Newman Outdoor Field in time, but for now we'd like to provide this virtual gathering place for our community to enjoy themselves and support each other. After all, we're all on the same team!
Fargo Cass Public Health

We urge our community to come together by staying apart. Please practice physical distancing recommendations, avoid unnecessary shopping, stay home if you are sick and continue to use good hygiene measures like washing hands. We can get through this, but only if we work together. Visit www.FargoCassPublicHealth.com/coronavirus for more information.
Follow Fargo Cass Public Health
Facebook: @FargoCassPublicHealth
Instagram: @FargoCassPublicHealth
Twitter: @FCPH

---
Spicy Pie
All three area locations are open from 11am-9pm for carry out, delivery, and curbside delivery.
Order the special $19.99 Family Meal now!
A special the whole family can enjoy - and we'll bring it right to you! Get an 18" Pie + Bread Bites or Zeppolis + a 2 Liter of Soda for only $19.99! Available for carry out, delivery or dine-in. Feeds 4-5. Order online, on our mobile app, or by calling your favorite Spicy Pie! www.pizzagrindersbeer.com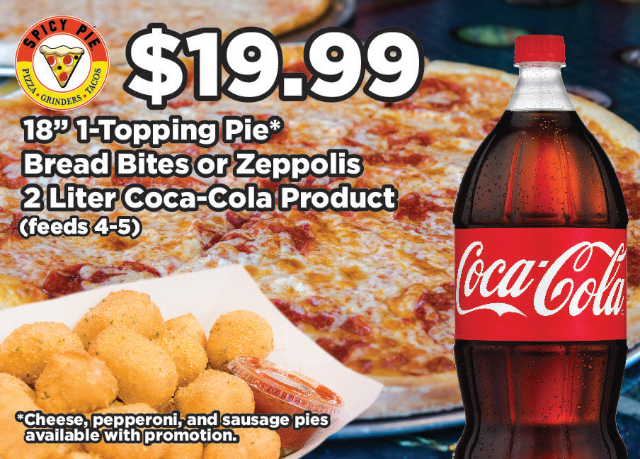 ---
Consolidated Communications
At Consolidated Communications, we know your connections are more important than ever. That's why we're helping students learn from home, upgrading networks so doctors can focus on patients, and providing tools to help employees collaborate remotely. To learn how we're helping communities, visit consolidated.com/covid-19.
Follow Consolidated Communications online via their social media channels.

---
Eide Bailly
CPA and business advisory firm Eide Bailly has resources on the SBA loans and other relief efforts for businesses and individuals at www.eidebailly.com/covid19, as well as information on tax changes and other impacts of the pandemic to our community.

---
Holiday Inn
Holiday Inn Fargo is open and ready to serve you! Call and ask for the 'Retreat' rate for $65 plus tax for stays now thru June 1st. Pick-up/to-go food and beverage, including off-sale spirits, is available.
To contact Holiday Inn, call 701-282-2700. They are located at 3803 13th Ave S., Fargo, ND 58103.
---
High Point Networks
Our first responsibility is to the health and safety of all our team members, customers and partners. We are open for business, and available to help your organization navigate any technology challenges as we battle these uncharted waters together. Always Connected.

---
Beds By Design Mattress Factory
We are still open and have some great deals available now! Stop in today for up to 25% in-store purchases. Omni Pillows and Sheets are buy one get one free! For more information, visit bedsbydesign.net

---
Laney's
Laney's is an Essential Services Business and we are OPEN to handle all of your plumbing, heating, cooling and electrical needs during the COVID-19 crisis. We are extending a 20% Customer Giveback on all service calls - until further notice. Your safety is our TOP priority!
Visit laneysinc.com for more information.

---
OnPoint Insurance
Get up to $100 in Gift Cards to your favorite FM Restaurant for helping friends & family save $100's on Auto & Home Insurance! Refer them to OnPoint Insurance before May 31 & get up to $100 in Restaurant Gift Cards! Help us thank them, feed you, & fill your wallet with savings! Evenings & Weekends, too! 701-353-2592 or [email protected]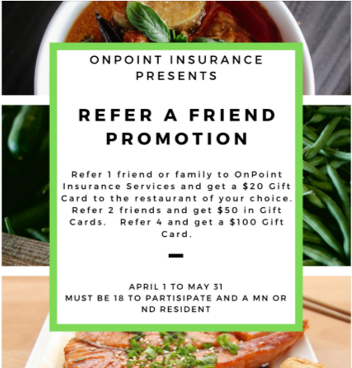 ---
Moorhead Electric
MEI has been a proud supporter of the community for over 50 years and will continue to help serve through this crisis. We are available 24/7 for your electrical issues. Contact us at 701-364-5678 or at moorheadelectric.com.

---
Sweet Dreams Confections
Sweet Dreams Confections is open for pick up in store. We are located in the Village West Shopping Center on 13th Ave S across from West Acres. We have a variety of gourmet selections including soup, bread, snacks, handmade fudge, nostalgic candies, soda pops, and much more. Have a safe and sweet day!
Call 701-297-9338 for more details or follow Sweet Dreams Confections online or on Facebook for more information.

---
Tents & Events - RentAll
We wish our entire community health and prosperity during this difficult time. RentAll is open and here to help in any way we can. Come see us today at any of our 3 metro locations, and we can get you going on your next project! We hope to see you in store or at the ballpark soon!
You can find Tents & Events - Rentall on Facebook
---
Town & Country Insurance Agency
We appreciate you, RedHawks fans! Town & Country Insurance, LLC is always here to support you. Give Brent Gerber a call at 701-388-5909 for assistance during the COVID-19 Pandemic. Visit https://www.tandcinsurance.org/ for more information.

---

If you are interested in becoming a corporate partner of the RedHawks, please call 701-235-6161 or email [email protected]