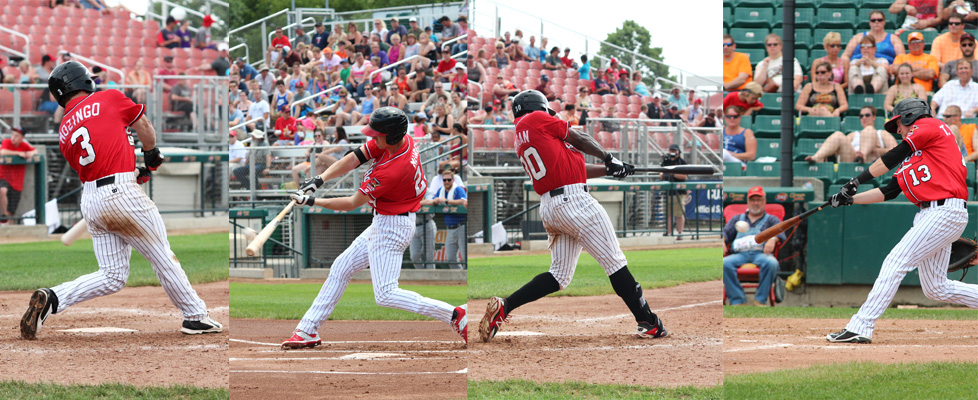 FARGO, ND – The Fargo-Moorhead RedHawks scored nine runs in the last two innings, turning Sunday afternoon's game into a 17-5 route over the visiting Ottawa Champions in front of a crowd of 4,165 RedHawks faithful.
The RedHawks scored right away in the first. Drew Muren led off the game with a towering double to deep center field and would score later in the frame off a Chad Mozingo single making it 1-0 after one. Muren's bat would come alive in the third again, as he sent a solo home run to the deepest part of the park in right center making it a 3-2 game.
Ottawa would score two runs in the second and one in the third on RBI doubles from Mike Schwartz and Alex Nunez. They would score again later off of an RBI single from Jon Talley in the fifth, and a Talley RBI double in the seventh.
The hit parade began in the fifth for Fargo-Moorhead. The RedHawks recorded six consecutive hits in the inning, including an RBI triple from Drew Muren. Muren was a single away from the cycle, striking out in his final two at-bats. He finished 3-for-5 with three runs scored and two RBIs. Muren was disappointed he didn't obtain the illustrious feat, but was happy with the win, saying, "It would have been a cool story 30 years down the road, but no big deal." The team scored six runs on seven hits in the home half of the fifth inning, both season highs for an inning this season.
The RedHawks bats were not done yet. Zach Penprase and Chad Mozingo each walked to start the seventh inning, bringing up Joe Dunigan. Dunigan took the second offering and launched an estimated 450 foot three-run homer over the fence in right-center field.
Rookie Connor Andrus lead of the eighth by taking a pitch to the leg followed by a Zach Penprase double off hit the wall in left bringing up Chad Mozingo. Mozingo followed with a three-run home run down the left field line making it 14-5. Next, Dunigan proceeded to belt a double into the alley in right, followed by a Joe Staley single. Newly signed first baseman Tyler Peterson stepped to the plate with runners on the corners and crushed a three run shot to left making it 17-5.
Fargo-Moorhead recorded many season highs, including runs scored (17), RBIs (17), hits (16), home runs (4), hits in an inning (7) and runs in an inning (6). All but one RedHawks starter recorded a base hit and the team won it's first home series of the season.
Lost in the offensive showcase was the strong performance of starting pitcher Ty Kelley. Kelley, an alumnus of Auburn University, was making his first start since his collegiate days as a Tiger. In his 179 professional apperances, Kelley had yet to make a start. He delivered with a quality start, the tenth RedHawk starter in 13 games to do so, going 6.2 innings while allowing five runs (four earned) on eight hits with three walks and four strikeouts. Kelley remarked how the early run support allowed him to settle in his new role saying, "Early in the game I took a bullpen approach to things, but as the game wore on I started to figure out and sort of remembered that I needed a different approach to going after hitters. The run support and timely hitting allowed me to go out and just do my job."
Kelley (2-5, 3.67 ERA) earned his second win of the season while Ottawa starter Drew Cisco (1-1, 8.38 ERA) took his first loss of the season.
The RedHawks improve to 16-34 and win back-to-back games for the first time since June 20-21. The team will now take the next two days off before hitting the road for an 11-game trip out East, where they will continue their interleague schedule. Brandon Mann (1-4, 4.57 ERA) is slated to start on Wednesday evening at Sussex County. All games will be broadcast by Jack Michaels on 740 AM The Fan.
:Ottawa Champions  5 AT Fargo-Moorhead RedHawks  17

                                 YTD                                   YTD
Ottawa             AB  R  H BI   AVG  Fargo              AB  R  H BI   AVG
A.Cartwright 3B     4  0  0  0  .195  D.Muren CF          5  3  3  2  .257
R.Ramirez 2B        5  0  1  0  .370  Z.Penprase SS       4  3  2  2  .265
S.Boucher DH,PH,SS  3  3  1  0  .333  C.Mozingo LF        4  3  3  4  .307
 D.Bick SS          0  0  0  0  .138  J.Dunigan RF        5  3  3  3  .221
M.Schwartz LF       5  0  1  1  .255  J.Staley DH         5  1  1  1  .241
J.Talley 1B         5  0  2  2  .204  T.Peterson 1B       5  1  2  4  .375
C.Winder CF         3  1  1  0  .261  F.Hall 3B           5  0  0  0  .104
A.Nunez RF          4  1  1  1  .270  F.Salerno 2B        4  1  1  0  .264
D.Meyer P,SS        4  0  1  0  .250  C.Andrus C          3  2  1  1  .429
C.Caswell C         3  0  0  0  .143       
                   36  5  8  4                           40 17 16 17

Ottawa               0 2 1   0 1 0   1 0 0 -  5  8  1
Fargo                1 0 1   0 6 0   3 6 x - 17 16  4
2B--R.Ramirez (5), M.Schwartz (2), J.Talley (2), A.Nunez (2), D.Muren (7),
Z.Penprase (10), J.Dunigan (11), C.Andrus (1). 3B--D.Muren (1). HR--D.Muren
(3), C.Mozingo (1), J.Dunigan (5), T.Peterson (1). RBI--M.Schwartz (10),
J.Talley  2 (11), A.Nunez (5), D.Muren  2 (15), Z.Penprase  2 (24),
C.Mozingo  4 (27), J.Dunigan  3 (26), J.Staley (22), T.Peterson  4 (5),
C.Andrus (2). HP--C.Andrus (1). SB--S.Boucher 2 (2), Z.Penprase (12),
C.Mozingo (10), J.Dunigan (6). E--D.Cisco (1), Z.Penprase (12), C.Mozingo
(4), F.Hall (6), C.Andrus (1). 
LOB--Ottawa 9, Fargo 2. 
                                                                YTD
                                 IP   H   R  ER  BB  SO  HR     ERA
 Ottawa
D.Cisco (L,1-1)                 4.2  10   8   8   0   2   1    8.38
J.Blanco                        1.1   0   0   0   0   1   0    1.35
N.Purdy                         1.2   6   9   9   2   3   3   14.21
D.Meyer                         0.1   0   0   0   0   0   0    4.91
                                8    16  17  17   2   6   4
 Fargo
T.Kelley (W,2-5)                6.2   8   5   4   3   4   0    3.67
J.Chudy                         0.1   0   0   0   1   0   0    3.57
J.Harris                        1.0   0   0   0   1   0   0    7.98
D.Ernst                         1.0   0   0   0   0   1   0    0.00
                                9     8   5   4   5   5   0
HB--N.Purdy (1). SO--A.Cartwright, R.Ramirez, M.Schwartz, J.Talley,
D.Meyer, D.Muren 2, J.Dunigan, J.Staley 2, F.Salerno. BB--A.Cartwright,
S.Boucher 2, C.Winder, C.Caswell, Z.Penprase, C.Mozingo. BF--D.Cisco 24
(46), J.Blanco 4 (25), N.Purdy 14 (33), D.Meyer (14), T.Kelley 32 (153),
J.Chudy 2 (84), J.Harris 4 (68), D.Ernst 3 (3). P-S--D.Cisco 70-49,
J.Blanco 13-8, N.Purdy 44-24, D.Meyer 6-3, T.Kelley 102-63, J.Chudy 13-7,
J.Harris 16-8, D.Ernst 17-9. 
T--2:57.  A--4165

Weather: 91F, Partly Cloudy, Winds SE 15