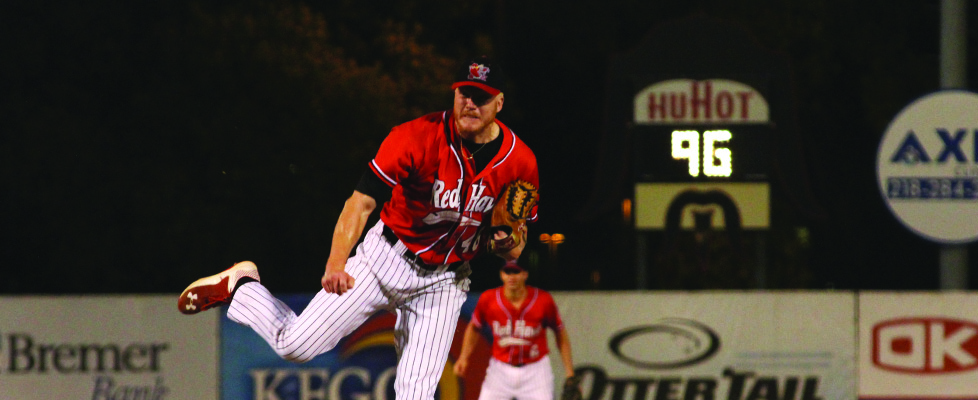 Written by Media Relations Intern Austin Hawkins
NEWMAN OUTDOOR FIELD – Top of the ninth in Fargo, North Dakota. Mike Nesseth on for the save. The man controlling music in the press box probably should have been blaring "Enter Sandman", but as custom at Newman Outdoor Field, Ole is getting down to "Cotton Eyed Joe" while Nesseth warms up. On this night, Nesseth would retire the Gary Southshore RailCats in order giving Fargo-Moorhead an 8-5 win. Before he toed the rubber in Fargo, one must go back to a small farming town of about 4,500 in Southwest Minnesota.
The town… Windom. Located in Cottonwood County, the Des Moines River flows through freely through a town home to former "The Price is Right" host Johnny Olson as well as RedHawks hitting coach Kole Zimmerman. Nesseth began playing baseball at an early age with T-ball in what was a well run program. His love for the game continued to grow from the age of four on and remains still at the age of 27. Nesseth competed against schools such as Marshall, Pipestone, Worthington and Jackson County Central (JCC) while playing for a decent high school team. He didn't start pitching until his freshman year where before he split time on varsity with Cody Johnson, who went on to enjoy a career at Mankato State University. One day the team ran out of pitching and they asked him if he could give it a go. And the rest is history.
He pitched decently his freshman year but his sophomore year is when it was evident that he had talent. Nesseth burst on to the scene in his sophomore campaign when he threw a no-hitter against Marshall, one of the bigger schools in Windom's conference. He continued to grow and build muscle and began to throw 90-92 miles per hour as a junior. With a wry smile Nesseth said, "I always had a loose arm. I probably threw the least. I didn't really know any better, I just went out and threw."
The radar gun read 90+ and the caller ID on the phone soon read big-time universities such as the University of Nebraska and the University of Minnesota. Before Nebraska and Minnesota came calling, Nesseth had attended a camp at South Dakota State, but after a stellar junior year the school list grew. He was invited to a showcase at Fort Snelling in Minneapolis and his name was tossed to the Huskers' coaching staff. About a month after the showcase, Nesseth was called by a coach from Nebraska and was asked to come throw at a camp. He was strongly advised by his parents to never pay for anything to get your name out, so when Nebraska offered the free opportunity he jumped at it. Nesseth had not thrown in about a week, but stepped on the field and threw extremely well. Throwing upwards of about 92 mph, the right-hander hit his spots and had great movement and walked away leaving a good impression. The next day pitching coach Dave Bingham, now with the Washington Nationals' organization, was in his house having breakfast and offered him a scholarship to which he verbally committed right away.
Where does Minnesota play in to this equation? Nesseth had a bitter taste in his mouth in regards to the Gophers. When they came to watch him pitch, he was not up to par. They watched him on short rest several times, which were not his best outings. To add on to it, they informed he would "potentially" be a spring recruit. "Being a Minnesota kid, that's where you want to be. You want to be a Gopher," he said. As soon as he saw the facilities in Lincoln paired with the offer presented by Minnesota, it suddenly became the perfect fit.
He arrived on campus as freshman in the Fall of 2006. He was tagged as a redshirt freshman in 2007 and did not see varsity action as a Cornhusker at Haymarket Park until 2008. He put together a strong freshman campaign while emerging as one of the Huskers' top bullpen workers down the stretch. He went 4-1 with a 3.58 ERA in 27 appearances and fanned 53 batters in 37.2 innings of work while opponents averaged a mere .201 against him.
In 2009 the staff at Nebraska changed his role. He had been slotted in as a closer for his first full season but in his second season they thrust him into the rotation. Nesseth led the team in wins (5), saves (2) and strikeouts (73) that season. He was highly touted going into the 2009 draft. He was listed as a top recruit by Baseball America and even went to the mandatory drug test required of the top 50 recruits.
Nesseth had a goal, and knew he had big league talent. He had a dollar sign and it wasn't offered to him. He turned down many offers into the early second round, and the offers continued to come but he turned them down. He was finally drafted by the Los Angeles Angels in the 15th round. The Cleveland Indians were in high pursuit of the hurler. If Nesseth had accepted the offer from the Tribe, it would be the hard-throwing right-hander from Windom, Minnesota that would have been taken 63rd overall in the 2009 draft. Instead, Jason Kipnis, whom is currently batting .325 for the Indians, was selected that day. Rather than heading off to a minor league ballpark, he took his 98 mile per hour fastball to the Cape Cod League that summer in Florida.
At this point in his career, all he had to do was stay healthy, but he did not. He felt it during the Cape Cod League, but felt pressure to keep throwing because of the draft. He did not have a good Cape season, Pitching for the Cotuit Kettleers, Nesseth's velocity dropped and he went 0-3 in 11 games that summer. Though his performance was not the best, he played with the Chicago Cubs' Justin Grimm, Cameron Rupp, and against Chris Sale. Nesseth returned to Lincoln that Fall but the constant pain in his elbow remained. He shut it down and began to rehab and the pain subsided. But once the season came around, so did the pain and tenseness in his right elbow. At the time of the injury, he was pitching extremely well, having gone 1-0 with a 1.80 ERA in seven games. However, he had continued to put off the nagging pain in his throwing arm, attempting to compensate by throwing with different arm slots and different mechanics to try and get the same result.
The scouts took notice of his inconsistency on the mound and asked him if he was hurt. He called his trainer one morning and requested an MRI on his elbow. The scan revealed the torn UCL (ulnar collateral ligament) and right then Nesseth thought one thing, "I'm done with baseball."
The negative thoughts continued to swirl. "Why did I not sign in the Cape with the Angels?" "I shot myself in the foot." The list goes on and on. Nesseth had surgery done about six weeks before the 2010 draft but was still selected in the 17th round by the Philadelphia Phillies. He credits one man that, Dr. James Andrews. The same Dr. James Andrews that operated on the knee of Jack Nicklaus back in 1984. The same Dr. James Andrews that conducted the surgery on the knees of Adrian Peterson, Chris Webber and Penny Hardaway. The same Dr. James Andrews that performed Tommy John Surgery on the likes of John Smoltz, Kerry Wood, Carl Pavano and Andy Pettite, among others. Yeah, that Dr. James Andrews.
Nesseth's father got in touch with Andrews and he conducted the surgery. Anybody can go to see the sports specialist for a price, and the highly touted doctor performed the surgery himself and then proceeded to type up a letter for Nesseth to send out to skeptical scouts saying his elbow would be healthy in a years' time.
He took 2010 off rehabbing while allowing his elbow to heal before beginning his professional career in 2011 in short-season Single-A with the Williamsport Crosscutters. In 2012 he was promoted to Single-A and then ended that season in High-A with Clearwater. He returned to Clearwater to begin the season and made his advances through the ranks heading to Double-A Reading. Reading was his first exposure to some of the marquee names in baseball. Guys like Roy Halladay, Ryan Howard and Chase Utley all made rehab starts during that season, and Nesseth looked on in awe as these true professionals carried on with their work. Nesseth said, "You can't even describe how professional they are. Once they step inside the doors to the ballpark it's all business. That's why they are that good at what they do. It's why they make that much money, and they deserve every penny." Nesseth finished that season in Triple-A with the Lehigh Valley IronPIgs. He appeared in three games, making one start, and did not give up a run in 7 innings of work.
Nesseth returned for the 2014 season after playing fall ball in the Arizona League and began the season in big league camp with the Phillies. He had a good spring training, appearing in a couple big league games. With a smile and a bit of chuckle Nesseth admitted that the first guy he faced, current Boston Red Sox start shortshop Dustin Pedroia, crushed a double off him. Nesseth did manage to strike out Lyle Overbay, which he comments as one of his favorite memories. He got optioned and sent to Triple-A with Lehigh Valley, to which everybody around him, including the coaching staff, was happy to see. With all of the excitement surrounding the season, things in Lehigh did not go as planned. He had to make a spot start for the IronPigs in which he gave up five runs and went 0-2 with a 9.39 ERA in four games (one start) before being demoted back to Reading. He went 2-5 with a 5.24 ERA in 38 games in Double-A and it was back to the drawing board.
Last winter he signed on with the La Guaira Tiburones of the Venezuelan Winter League and pitched in five games. Nesseth said it was the best baseball he had every played, and his first three batters he faced was Lew Ford, Andy Chavez and Ronnie Cedeno, which combined have some 25 years of big-league time.
The 2015 season rolled around and the roller coaster began. At the start of the season he felt like he was on a chopping block. If one were to break down the stats, it would be clear that his role is best served as a reliever, but the constant change of bullpen to rotation continued to inflate his ERA and put more numbers in the "L" column. Nesseth came out and started the season off with a good spring and came out throwing harder than most of the pitchers in minor league camp. He started the season off in Reading but was released by the Phillies after eight games in which he went 0-2 with a 5.02 ERA. After giving up no runs in the month of April, he got hit around in May and was released. He began the drive back home to Windom and received a call from a player-development scout with the Atlanta Braves about halfway home. The Braves had offered him and Nesseth agreed to the contract. He re-packed his bags and flew out to Carolina the next day. After four appearances in High-A he was promoted to Double-A with the Mississippi Braves. Nesseth strung together three good starts before he had one bad outing. He walked two guys, got pulled, and the two runs came around to score. Nesseth was released shortly there after around the draft. Guys were moving up through the ranks and he was not in the equation.
Nesseth got the call from the RedHawks' coaches a short time later and he took the chance to keep playing. His first few days in Fargo were difficult, as Nesseth admitted, "It was tough to swallow. I respect every person that plays independent baseball. A lot of those guys, including myself, just didn't quite have it." But that's what keeps him going. The love of the game. The desire to show that he still has what it takes to play.
He has been one of the more dominant relievers in the league, and was recently named the American Association Pitcher of the Week. It gives him the opportunity to keep playing, because taking time off would be detrimental to his progress for next season. But also, his respect for Doug Simunic and his coaching staff is through the roof. Simunic promised Nesseth the closer's role, and have not once deviated from that promise.
For the time being, Nesseth is content with Fargo-Moorhead. For the first time since his days at Nebraska, he is playing close to home. Lincoln and Fargo are both about four hours apart, but most of his stops in affiliated ball were up and down the Northeast coast. Friends and family that have always watched him play now have that opportunity to come see him play. His parents, who would make four-five trips a season to see their son play in a five month season, have made that many trips in two months. The return home has been rejuvenating for him to say the least.
What's next for Nesseth? "It's tough to say. When I got here I said, 'If I don't get signed (after this season) I'm done.' But now I don't know." And he is not in any hurry to find out. As he looks out over the estate that is Newman Outdoor Field, he is just going to keep playing the game he loves, in front of the people he loves.