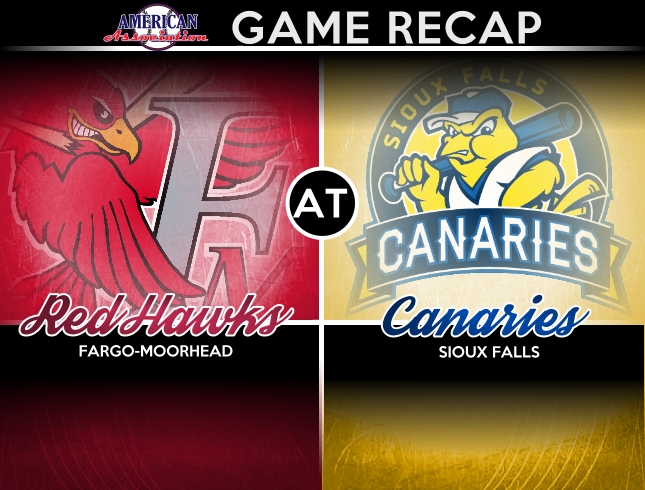 Sioux Falls, SD – The Canaries tied the game in the bottom of the eighth but gave the RedHawks the lead right back in the top of the ninth and fell, 7-3, Wednesday night in front of 2,869 at Sioux Falls Stadium. During the game, Alexander passed Jake Laber for the RedHawks all-time strikeout record. (VIDEO)
A solo shot off the bat of Charlie Valerio in the top of the second inning gave Fargo an early 1-0 lead, and later that inning the RedHawks extended their lead on K.D. Kang's RBI single, scoring Trever Adams from second.
Another solo home run, this one off the bat of Adams, once again extended the RedHawks lead by a run in the top of the fourth, but Bircher settled down thereafter.
After allowing three runs on five hits over the second, third and fourth innings, Bircher allowed just three more hits through the eighth and stranded five RedHawk base runners, not allowing another run.
However, Tyler Alexander, on the hill for the RedHawks. the American Association League Leader in ERA and strikeouts, outdueled Bircher Wednesday night.
Alexander didn't allow a run on just three hits and struck 13 of the 26 batters he faced over 7.0 innings pitched.
For the Canaries, Bircher allowed three runs on eight hits over 8.0 innings of work, striking out five and walking three.
Trey McNutt relieved Alexander in the bottom of the eighth and allowed three base runners to reach on a walk and singles by Jabari Henry and Trey Vavra before an error by the shortstop allowed two runs to score, cutting the RedHawks' lead to 3-2.
Casey Weather's relieved McNutt, but Blake Schmit singled Vavra home to tie the game at three.
But Jose Ortega came on for the top of the ninth and gave the RedHawks the lead the right back, allowing a double and a single to lead off the top of the ninth.
In total, the RedHawks scored three runs on five hits and a walk against Ortega and Andrew Woeck in the top of the ninth to take a 7-3 lead.
Weathers came back for the bottom of the ninth and set down the Canaries to give the RedHawks a 7-3 victory.
Ortega takes the loss for the Canaries, who fall to 41-47 on the season, while Weathers picks up the win for the RedHawks, who move to 48-39 on the year.
The Canaries wrap up their four-game series against the Fargo-Moorhead RedHawks Thursday night at Sioux Falls Stadium. LHP Bo Hellquist (2-1, 4.30 ERA) will take the hill for the Canaries in game three of the series against RedHawks' RHP Tyler Stirewalt (0-1, 5.06 ERA).