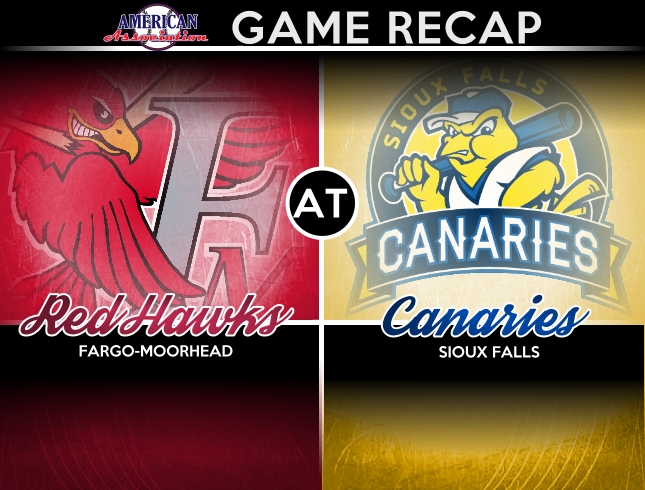 Sioux Falls, SD – The Sioux Falls Canaries rallied in the ninth but fell just short against the Fargo-Moorhead RedHawks, falling 5-4 Thursday night at Sioux Falls Stadium, and dropping the series three games to one.
Bo Hellquist had a rough first few frames against the RedHawks, allowing four runs on five hits, a walk and three hit-by-pitches through the first three innings at Sioux Falls Stadium.
Keury De La Cruz walked to lead off the top of the second, moved up to third on Trever Adams' single and scored on K.D. Kang's groundout. Devan Ahart followed one batter later with a double off Hellquist to extend Fargo's lead to 2-0.
Jabari Henry led off the bottom of the frame with a solo home run, his 23rd home run of the season, but the RedHawks came right back to answer in the top of the third.
A one-out solo home run off the bat of Charlie Valerio extended the RedHawks' lead to 3-1, and Fargo tacked on another run on Kang's RBI single to make it 4-1.
Hellquist settled down after the third and put up zeros in the fourth and fifth, but left the game in line for the loss. Hellquist allowed four runs on six hits over 5.0 innings pitched, striking out and walking three batters.
Neal Kunik relieved Hellquist in the sixth, making his professional debut, and worked three scoreless innings, keeping the RedHawks' lead at 4-1.
For the RedHawks, Tyler Stirewalt allowed just one run on four hits over 7.0 innings of work, stranding seven Canary base runners, including two in scoring position.
Carson Goldsmith worked a scoreless eighth for the RedHawks, leaving another runner on base for the Birds before Kunik came back out for the ninth and allowed an unearned run to extend Fargo's lead to 5-1.
Goldsmith came back out for the bottom of the ninth, but back-to-back walks brought in Trey McNutt to try and nail down the victory for the RedHawks.
Dan Motl reached on an error, bringing a run home to cut the RedHawks' lead to 5-2, and a passed ball with Burt Reynolds at the plate made it 5-3.
Aaron Gretz' RBI single scored Motl from third and made it 5-4, but Henry just got under a pitch and popped out to second, and the Canaries threat and giving the RedHawks a 5-4 victory.
Hellquist takes the loss for the Canaries, who fall to 41-48 on the season, while Stirewalt picks up the win for the RedHawks, who move to 49-39 on the year.