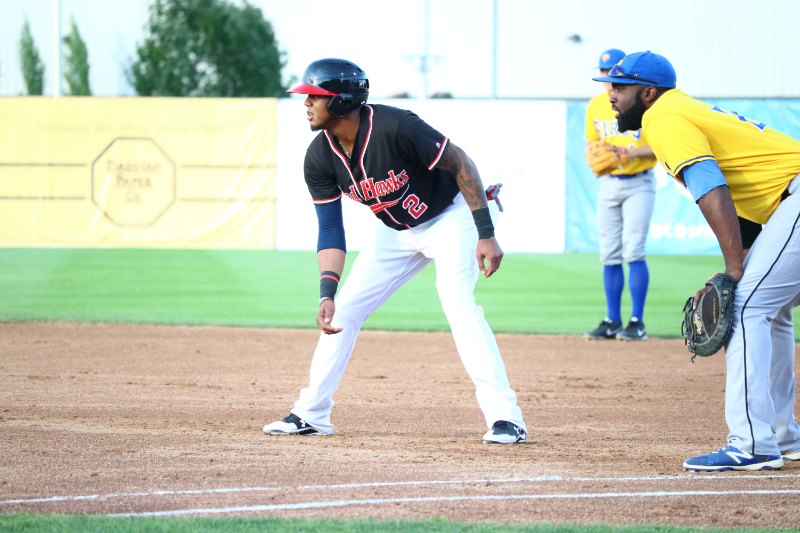 FARGO — Two two-run doubles in the seventh innings were the difference as the Sioux Falls Canaries (4-7) came from behind for a 5-3 victory over the Fargo-Moorhead RedHawks in front of 2150 fans at Newman Outdoor Field on Tuesday night.
Joe Bircher was phenomenal for Sioux Falls in his third start of the season. He held the RedHawks to three runs and four hits in eight innings of work. Bircher struck out three and walked two for his first win of the year.
Pete Perez got the loss for the RedHawks after coming on to pitch in the seventh inning. He gave up two runs in 2/3 of an inning on the mound for his second loss of the year. He is 0-2 with a 7.04 ERA in five games so far this season.
Fargo opened the scoring on a sacrifice fly from Charlie Valerio that scored Michael Almenzar from third. Randolph Oduber scored on a single from Leo Pina on the next at-bat to give the RedHawks a 2-0 lead on their first hit of the game.
Sioux Falls scored a run on a Blake Schmit single in the third before the teams' respective pitchers combined to throw three straight scoreless innings. The Canaries' four-run seventh gave the visitors the run support they needed to take a 5-2 lead.
Fargo plated another run in the bottom half of the seventh when Charlie Valerio scored from second on a Leo Pina single to cut the lead to two runs, but it wasn't enough as James Jones shut the door in the ninth inning to get the save for the Canaries.
The RedHawks move to 6-5 with the loss and are tied for third in the North Division with the Gary SouthShore RailCats (6-5), two games behind the St. Paul Saints (8-3). Fargo-Moorhead will wrap up the three-game series with Sioux Falls tomorrow night at Newman Outdoor Field. First pitch is scheduled for 7:02 PM.