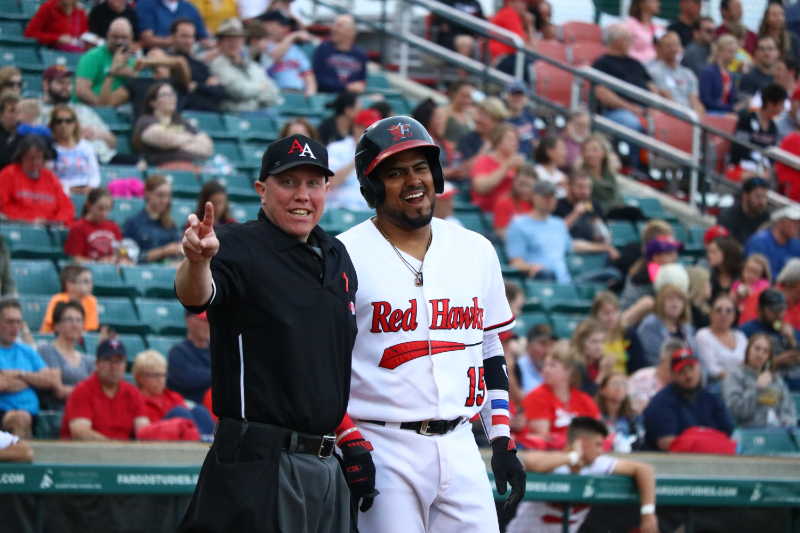 FARGO — Two runs in the top of the seventh inning and a shut-down performance from the Gary SouthShore bullpen doomed Fargo-Moorhead to a 3-2 loss in front of 4462 fans Thursday night at Newman Outdoor Field.
The RedHawks briefly took a 2-1 lead courtesy of a double steal in the sixth inning. Leo Pina stole second and Randolph Oduber stole home to give the RedHawks a one-run lead that lasted a half inning before the RailCats scored runs on back-to-back at bats by Alex Crosby and Reggie Wilson.
The RailCats opened the scoring on an RBI double from Colin Willis in the top of the first inning. An RBI single by Charlie Valerio in the third inning scored Maikol Gonzalez to tie the game at a run apiece, and the game would stay tied for three innings until the RedHawks took their short lead.
Trey McNutt pitched 5.1 innings in his fourth start of the year. He have up one hit on two runs while striking out four and walking five — he did not factor into the decision.
Jeremy Holcombe got the win for the RailCats after coming on to pitch in the sixth inning. He gave up one run on two hits with a strikeout for his first win of the season.
Andrew Woeck got the loss for the RedHawks after he came on in relief of McNutt. Woeck gave up two runs in the seventh inning to move to 0-1 on the year.
The RedHawks will look to even up the series with Gary SouthShore tomorrow night at Newman Outdoor Field. First pitch for Game 2 is scheduled for 7:02 PM.