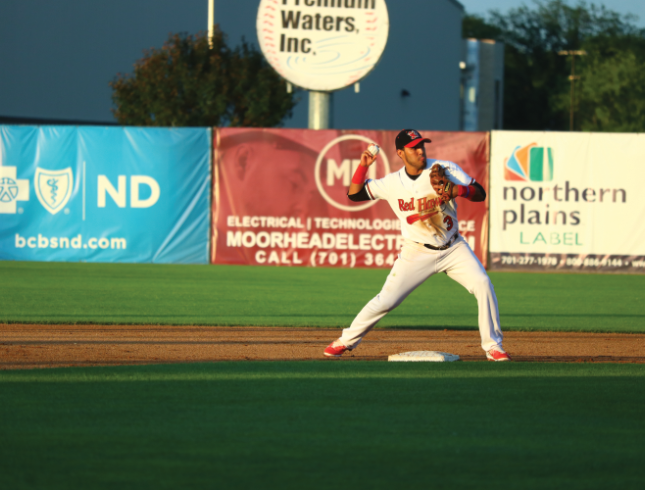 FARGO, N.D. — Will Solomon shut out Winnipeg and Maikol Gonzalez provided all the run support Fargo-Moorhead needed as the RedHawks opened a three-game series against the Goldeyes with a 3-1 victory in front of 4057 fans on Friday night at Newman Outdoor Field. Gonzalez's three-run home run in the fourth inning provided all three F-M runs tonight as Solomon outdueled Winnipeg's Kevin McGovern on the mound to keep the Hawks undefeated against their Northern rivals this season.
Solomon retired 19 of the 27 batters he faced in 6.1 brilliant shutout innings of work to earn the win. The left-hander moves to 7-4 on the year thanks to his effort tonight. Solomon's ERA dropped to 3.34 after tonight's win.
On the offensive side, Gonzalez's one swing of the bat in the fourth was the only real crack in Goldeye starter Kevin McGovern's armor tonight. McGovern struck out five RedHawks batters and allowed seven hits in seven innings despite earning the loss courtesy Gonzalez's shot.
Gonzalez stepped up to bat with two outs and runners on first and second. The second baseman worked a 2-2 count before depositing his fourth homer of the season onto Albrecht Boulevard beyond Newman Outdoor Field's right field wall.
Charlie Valerio and Keury De La Cruz were the only two RedHawks batters with multiple hits. De La Cruz was the first to beat McGovern when he knocked a double into the gap in right-center for Fargo-Moorhead's first hit of the game. Valerio finished with two singles and a run.
With the win tonight, the RedHawks stretch their winning streak against the Goldeyes this season to five games. Fargo-Moorhead swept a four-game series against Winnipeg at Newman Outdoor Field in early July.
The RedHawks will look to keep the winning streak going tomorrow night in the second game of three against the Goldeyes. Brandon Barker will start for Fargo-Moorhead against Alex Boshers of Winnipeg. First pitch is scheduled for 6 PM and the first 1,000 fans at Newman Outdoor Field will receive a free RedHawks t-shirt thanks to Algorithme.