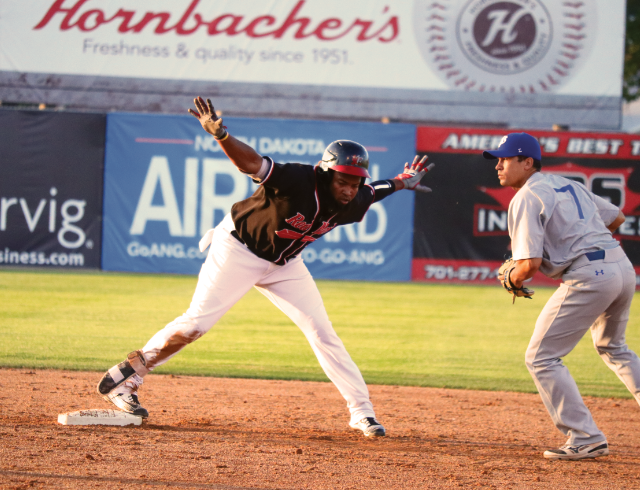 FARGO, N.D. — A three-run eighth inning and a shutdown performance from Benji Waite in the ninth gave the RedHawks a series-opening 9-7 win over the St. Paul Saints in front of 3119 fans on Monday night at Newman Outdoor Field.
Few would have predicted the RedHawks win after Will Solomon gave up four runs in a first inning lengthened by an umpire injury that forced a change behind the plate. Solomon clamped down and did not allow another run to finish with two strikeouts and three walks in 6.1 innings of work. Solomon got the win after the RedHawks responded with five runs of their own in the first three innings to take back the lead.
After each team added a run late in the game, Fargo-Moorhead got three runs in the eighth inning to take a 9-5 lead. Maikol Gonzalez started the scoring with an inside-the-park home run down the left field line. The inside-the-park home run is the first ever by a RedHawks batter at Newman Outdoor Field. The last inside-the-park home run at Newman Outdoor Field was hit on July 7, 2013 by Sioux City's Bryan Pounds.
Then, back to back singles from Derrick Fox and Yhoxian Medina came back to bite the Saints when Tim Colwell tripled to right to score both and make it a four-run Fargo-Moorhead lead.
After St. Paul scored two runs in the top half of the ninth, Benji Waite came on to get two final outs, clinch the win, and earn the save.
With the win, the RedHawks move to 38-28 on the year. Fargo-Moorhead remains one game behind the Gary SouthShore RailCats in the North Division and opens up a one and a half game gap between itself and St. Paul for the second spot.
The RedHawks and Saints will play the second game of the four-game series tomorrow night in Fargo tomorrow night at 7:02 PM.