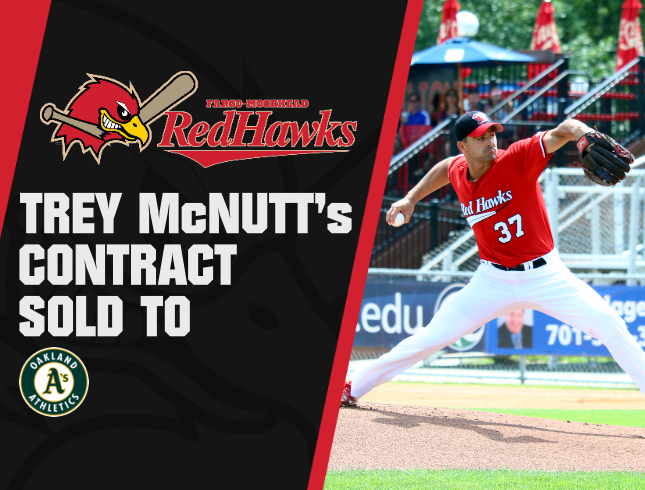 FARGO, ND — The Oakland Athletics have purchased the contract of Fargo-Moorhead RedHawks pitcher Trey McNutt.
McNutt, 29, finished 7-8, with a 5.20 ERA in 2018 and was 11-11 in his two seasons with the RedHawks. He was drafted by the Chicago Cubs in the 32nd Round of the 2009 MLB Draft out of Shelton State Community College in Tuscaloosa, Alabama.
"I want to thank Michael (Schlact) and the rest of the RedHawks' organization for my two seasons in Fargo," said McNutt. "The coaches encouraged me to take away the excuses and focus on my goal of pitching for an MLB organization again".
In his nine-year career, McNutt is 42-34 with a 4.07 ERA in 205 appearances. He has 512 strikeouts, 233 walks, and 551 hits against in 564 innings pitched.
"Trey has put in so much work and represented the F-M community and the RedHawks so well in his time here," RedHawks manager Michael Schlact said. "He came to the RedHawks and put himself in an opportunity to be seen by MLB clubs, and put up numbers to get signed". Schalct added "We're so proud of Trey and all he accomplished and we wish him the best of luck & thank him for his contributions to the organization".
The Haleyville, AL native joins Sebastian Kesay as the second pitcher from the 2018 RedHawks roster who has been signed by an MLB organization.
Since 1996, the Fargo-Moorhead RedHawks have sold the contracts of 77 players to MLB teams and their affiliates.
# # #