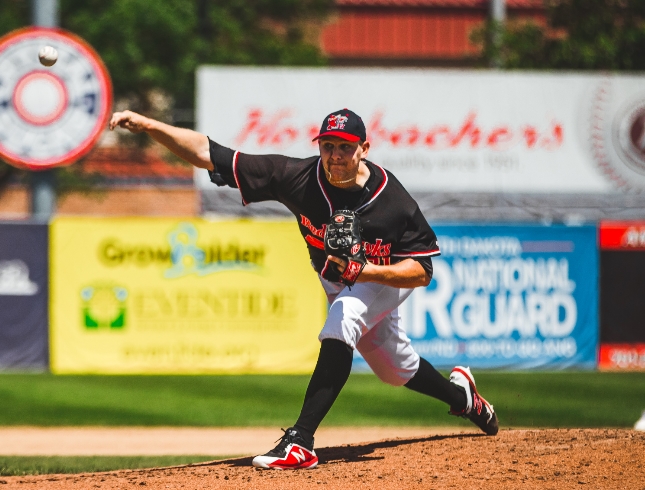 FARGO, N.D. — The American Association of Independent Professional Baseball and Pointstreak announced RedHawks pitcher Michael Tamburino as the AA Pitcher of the Week, for the week of July 22-28, 2019.
Tamburino pitched a gem against the Lincoln Saltdogs on July 24th, as he went for eight innings and gave up two hits and no runs in the RedHawks 3-0 win over the Saltdogs.
"Tambo had everything working for him as he was able to command all of his pitches and his pitch selection was spot on" said RedHawks manager Jim Bennett. "It was fun to watch" Bennett added of Tamburino's performance in Lincoln.
The 28-year-old native of Cedarhurst, NY is in his is second season with the RedHawks and is 5-5 this year with an ERA of 4.20 in 75 innings. The Pace University alumnus is ranked 11th all-time with the Setters, having a career 2.90 ERA before graduating in 2013. Michael started his professional baseball career with the Sussex County Miners (Canadian-American Association) in 2016 before signing with the Lincoln Saltdogs in 2018. He was traded to the Fargo-Moorhead RedHawks on August 4, 2018.
Michael joins fellow pitcher Bret Helton and outfielder Tim Colwell as the third RedHawks player to win the American Association's weekly honor this year and is the team's seventh pitcher in the past three seasons to have earned the league's Pitcher of the Week award.
# # #