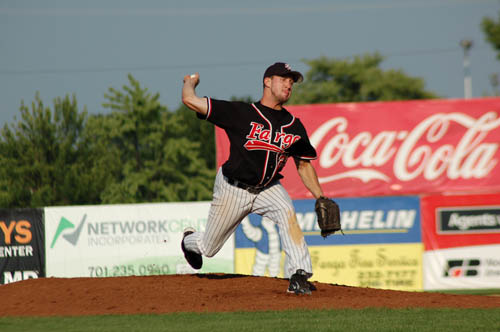 The Fargo-Moorhead RedHawks have resigned RHP Billy Weitzman, LHP Scott Koerber and OF/C Kole Zimmerman to contracts for the 2009 season, the Northern League club announced today. In addition, the RedHawks have traded OF Boomer Berry to the American Defenders of New Hampshire of the Can-Am League for future considerations.
Weitzman, 26, came out of nowhere to earn the Northern League Rookie Pitcher of the Year award in 2008. He was 8-2 with a 3.03 ERA in 14 games (12 starts) after joining the RedHawks in late June after getting his release from the Continental League. Weitzman pitched 68.1 innings and allowed 31 runs (23 earned) on 60 hits. He struck out 44 batters, walked 25 and held opponents to a .234 batting average against him.
Weitzman returned to professional baseball in 2008 after three seasons out of the game. He had a two-year stint in the New York Mets organization out of Briar Cliffe (N.Y.) Junior College, pitching for the Kingsport Mets of the Appalachian League (R) in 2003 and 2004. He was in training camp by both the Sioux Falls Canaries of the American Association and the Evansville Otters of the Frontier League last spring before catching on in the Continental League.
Koerber, 26, had an All-Star season with the Fargo-Moorhead in 2008, his first with the club. He was 10-5 with a 2.87 ERA in 42 games out of the RedHawks bullpen. Koerber pitched 78.1 innings and allowed 27 runs (25 earned) on just 64 hits. He struck out 73 batters, walked 36 and held opponents to a .225 batting average against him. Koerber was tied for the Northern League lead in victories (10), was fourth in ERA (2.87) and was fifth in games pitched (42).
Prior to joining the RedHawks, Koerber spent four seasons in the Chicago Cubs organization. He signed with the Cubs after an outstanding career as a two-way player at Michigan State University, where he was a pitcher and first baseman. Koerber showed off his skill with the bat for Fargo-Moorhead as he hit .440 (11-for-25) with five doubles, two RBIs and nine runs scored when pressed into service in the outfield due to injuries.
Zimmerman, 25, joined the RedHawks in 2008 after his college career ended at North Dakota State University last spring. Zimmerman appeared in 58 games for the RedHawks in 2008 and batted .263 with five doubles, six home runs, 27 RBIs and 26 runs scored in just 160 at bats. Zimmerman saw time in left field, right field, catcher and as a pinch hitter in 2008.
Zimmerman, a Windom, Minn. native, was one of the Bison's top players as the team made the transition to NCAA Division I. In addition to his baseball skills, Zimmerman was also an all-conference football player with the Bison.
Berry, 28, was traded to New Hampshire for future considerations. He batted .279 with 14 doubles, three triples, three home runs, 30 RBIs and 51 runs scored in 78 games. He missed the final 18 games of the season and the playoffs after breaking his arm in mid-August.