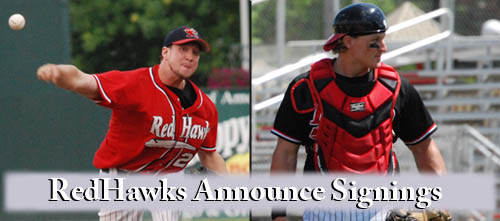 The Fargo-Moorhead RedHawks have signed RHP Billy Weitzman, C Kole Zimmerman and LHP Jake Laber to contracts for the 2010 season, the Northern League club announced today
. All three will be in Fargo when training camp opens in early May.
Weitzman, 27, is returning to the RedHawks for this third season. Last year, he was 2-3 with a 5.55 ERA in 13 games (eight starts).
Weitzman pitched 48.2 innings and allowed 37 runs (30 earned) on 46 hits. He struck out 29 batters, walked 29 and held opponents to a .251 batting average against him. Weitzman missed nearly a month of the season with a minor arm injury, but is expected to be at full strength for 2010.
Weitzman was the Northern League Rookie Pitcher of the Year in 2008 after going 8-2 with a 3.03 ERA in 14 games (12 starts) in his first season with Fargo-Moorhead
. He was originally signed by the New York Mets in 2003 and spent two seasons in their farm system. Weitzman was drafted in the 37th round of the 2002 draft out of Briar Cliffe (NY) Junior College.
Zimmerman, 26, appeared in 29 games for Fargo-Moorhead in 2009 before being sidelined with a knee injury at the end of June
. He batted .223 with six doubles, eight RBIs and eight runs scored. He was activated from the disabled list for the Northern League finals and started at catcher for Games 3 and 4 against the Gary SouthShore RailCats.
A former North Dakota State University standout, Zimmerman batted .263 with five doubles, six home runs, 27 RBIs and 26 runs scored in 58 games in 2008
. He has appeared in games at catcher, left field, right field and designated hitter in his two seasons with the RedHawks.
Laber, 23, was acquired via trade from the River City (MO) Rascals of the Frontier League in January.
He was 9-4 with a 4.48 ERA in 21 starts for River City in 2009. Laber pitched 130.2 innings and allowed 75 runs (65 earned) on 142 hits. He struck out 115 batters and walked 45. Laber's strikeout total ranked fourth in the Frontier League, and his 21 starts were good for second in the circuit.
Laber made his professional debut in 2008 with the RedHawks after four years at North Dakota State University
. The Fargo native appeared in seven games for Fargo-Moorhead and was 0-2 with a 7.30 ERA before his contract was assigned to River City. After moving to the Rascals, Laber was 4-3 with a 4.01 ERA in 11 starts.