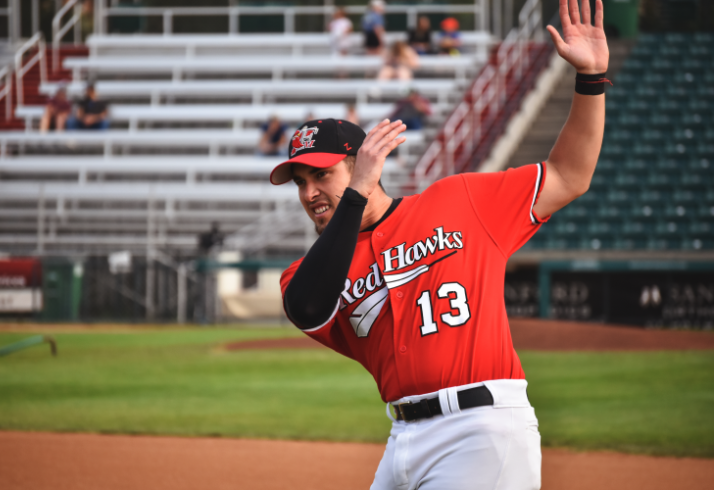 FARGO, N.D. - The Gary SouthShore RailCats (34-54) scored three runs in the second inning and held on for a 7-2 win over the Fargo-Moorhead RedHawks (54-36) in front of 2,803 fans on a cool Thursday evening at Newman Outdoor Field.
Playing through a rain shower at the start of the game, Gary took advantage of an error to plate three unearned runs in the second off RedHawks' starter Bret Helton (6-9, 5.29 ERA) for the game's first lead. They added a run each in the third and fourth innings to take a five-run lead after four innings. Helton allowed five runs (one earned) on eight hits with three strikeouts and one walk in four innings of work in his 19th start of the season. Michael Hope, Tyler Grauer, and Taylor Wright all worked relief stints for the RedHawks.
Fargo-Moorhead only had five hits in Thursday's game — Alex Boxwell and Sam Dexter were the only two RedHawks with multiple hits in the game, and Manuel Boscan was the only other F-M batter with a hit on Thursday night.
LHP Chris Eriwn (3-4, 3.18 ERA) got the win on Thursday after pitching five scoreless innings. Erwin allowed only two hits and two walks while striking out seven batters. LHP Yoel De Leon came into the game in the sixth inning and allowed two runs on two hits and two walks. LHP Tucker Strobel (3-4, 3.73 ERA) picked up his sixth save of the season with three innings of relief work to finish the game.
Fargo-Moorhead will now travel to Rosemont, Ill. to start a three-game series against the North Division-leading Chicago Dogs (57-32) on Friday night. The RedHawks are 5-4 against the Dogs this season. First pitch is scheduled for 7:05 p.m. on Friday night at Impact Field.