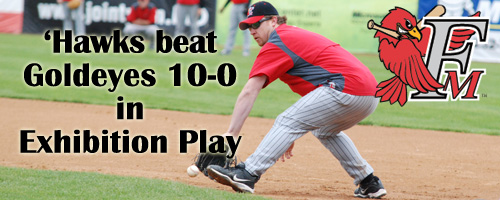 The Fargo-Moorhead RedHawks opened the home portion of their exhibition schedule with a 10-0 win over the Winnipeg Goldeyes on Sunday night at Newman Outdoor Field. The RedHawks got a strong outing from starting pitcher T.J. Stanton, who threw four perfect innings to earn the win.
The RedHawks jumped out to a big lead early, scoring six runs in the bottom of the first inning. Carlo Cota, Jay Cox, Alan Rick and Kole Zimmerman all collected hits for Fargo-Moorhead in the frame. The RedHawks tacked on three more runs in the fifth inning, including a leadoff homerun from first baseman Jesse Hoorelbeke. Cox scored his third run of the game in the fifth on a single by Rick through the right side of the infield.
RedHawks pitchers Matt Mossey, Adam Tollefson and J.J. Pacella also contributed to the shutout.
Winnipeg and Fargo-Moorhead will meet again tomorrow night at Newman Outdoor Field starting at 6:00pm to close out the pre-season. Fans can bring a non-perishable food item to donate to the Great Plains Food Bank and receive free admission.