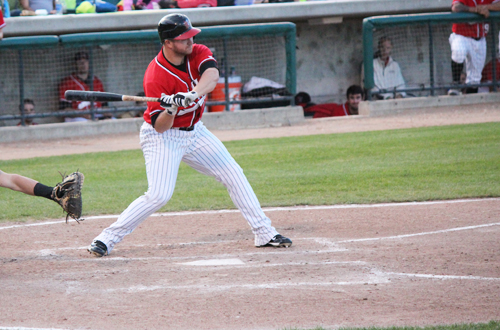 The Fargo-Moorhead RedHawks (6-3), behind an eight-run sixth inning, rallied to defeat the Kansas City T-Bones (6-3) 11-8, in front of 6,483 at CommunityAmerica Ballpark on Saturday night.
Kansas City opened the scoring in the second on a solo home run by Brian Joynt off RedHawks starter Matt Mossey. Fargo-Moorhead answered in the third when Kole Zimmerman singled off Kansas City's starter Reid Santos (0-2) and scored with two outs on a double by Mike Coles.
The RedHawks scored twice in the fourth on a two-run home run by Eric Campbell. The T-Bones responded, scoring six times on seven hits in the bottom half of the frame. The inning was highlighted by a three-run home run by Dwayne White that chased Mossey. Jim Fasano drove in two with a double before the home run and Jacob Blackwood plated the final with a basehit.
Fargo-Moorhead answered the T-Bones with eight runs in the top of the sixth inning. After allowing five singles to begin the inning, Santos left in favor of Kyle Dahman, who allowed five more hits, including a two-run, pinch-hit home run by Alan Rick.
Santos took the loss, allowing eight runs on 11 hits while striking out six over five innings. Dahman surrendered three runs on five hits over two-thirds of an inning before giving way to Kevin Light.
Kansas City capped the scoring on the night in the sixth with a solo home run by White, his second of the game. He finished two-for-three with four RBI to pace Kansas City.
Drew Graham threw a scoreless ninth to finish the game for the T-Bones.
Nick Fellman picked up the win, allowing two runs on three hits over two and one-thirds innings. T.J. Stanton earned his first save of the year with a scoreless ninth.
Fargo-Moorhead finishes the first series of their first roadtrip with the series finale Sunday against the T-Bones. Right-hander Cody McAllister of KC will face off against left-hander Jake Laber of F-M as the RedHawks go for the sweep. First pitch is set for 5:05 p.m.