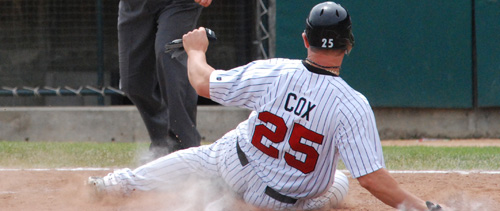 Jay Cox doubled off the wall with two outs in the ninth to score two as the Fargo-Moorhead RedHawks (17-7) earned a 4-3 come-from-behind victory Thursday night over the Joliet JackHammers (12-13) at Silver Cross Field. Fargo took the series and improved to 4-2 against Joliet this season.
The JackHammers entered the ninth with a 3-1 cushtion, handing the ball to their closer, Drew Shetrone (0-2). Jesse Hoorelbeke started the rally with his sixth homer of the year to make it 3-2. After two groundouts, Alan Rick walked and Kole Zimmerman singled to set the stage for Cox's heroics.
The Orange Crush attempted to rally in the bottom half against Donnie Smith. Kevin Rios led off with a walk with Jon Nelson and Justin Justice following suit after two outs were recorded. Joe Billick would strike out on three pitches to end the game.
Joliet wasted a good effort by Bear Bay, who worked seven plus innings and earned a no-decision. The right-hander surrendered only one run on six hits with seven strikeouts, tying a JackHammer season high.
The JackHammers got on the board in the second off Matt Mossey, plating an unearned tally. Justin Justice doubled and would score on a bunt by Joe Billick. Rick threw the ball into left field allowing Justice to score and Billick went all the way to third with nobody out. Joliet would fail to put another run on the board until the seventh.
Mossey loaded the bases with one out and gave way to Casey Hoorelbeke. The big righty struck out Kevin Rios but walked Brad Correll to put Joliet up 2-0.
Mossey earned a no-decision with 6.1 innings of two run (one earned) ball with Adam Tollefson (1-0) earning the victory.

The RedHawks will continue their nine-game roadtrip on Friday night with the first of three games against the Lake County Fielders. The series will be played at Carthage College in Kenosha, WI, with first pitch scheduled for 7:00 p.m. on Friday.