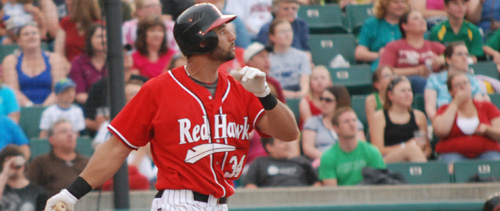 As the temperature warmed up at Newman Outdoor Field, so did the bats of the Fargo-Moorhead hitters. The RedHawks pounded out twelve hits en route to a 9-4 win in the series finale over the Rockford RiverHawks on a hot Thursday afternoon.

Fargo-Moorhead (23-14) was led by left fielder Cory Patton, who was 2-for-4 on the day with a pair of doubles and drove in three runs. Nic Jackson also had a big game for the RedHawks, going 3-for-4 with an RBI.
Fargo-Moorhead starter T.J. Stanton (2-2) kept the RiverHawks scoreless through five innings. The righty, who is being converted to a starter after beginning the season in the bullpen, began to fatigue in the sixth and Rockdford took advantage, scoring three times. Stanton's ERA rose from 0.74 to 1.48 after his outing on Thursday.
Rockford (17-21) starter Mike Wood (0-3) struggled early with his control and threw 96 pitches in 4.2 innings of work. He gave up six runs on eight hits and walked three Fargo-Moorhead hitters while taking the loss.
Former RedHawk Richard Austin was 2-for-4 with two doubles and two RBI for Rockford.
The RedHawks will hit the road to start a series with Kansas City tomorrow while Rockford will head home to play Schaumburg at Road Ranger Stadium.