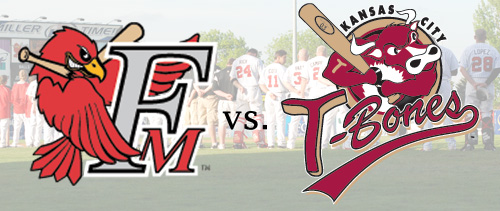 Ryan Fox (pictured) hit two two-run home runs, and the Kansas City T-Bones (27-16) picked up their sixth consecutive victory with a 7-6 win over the Fargo-Moorhead RedHawks (23-16) Saturday night in front of 6,596 at CommunityAmerica Ballpark.
The game was scoreless through the first three innings before Fargo put up three runs against Kansas City starter Andrew Cruse (6-2) on a home run by Alan Rick, the first of two for him on the night, to give the RedHawks a 3-0 lead in the fourth. The T-Bones cut the lead to 3-1 in the bottom of the frame on Ray Sadler's fielder's choice groundout off Fargo starter Jeremy Hauer.
Hauer issued a walk to start the fifth before Fox hit his first blast of the night, tying the game at three. After hitting the next batter, Hauer left in favor of Casey Hoorelbeke (4-2). An RBI triple by Jimmy Mojica and a sacrifice fly by Jacob Blackwood added two more, giving Kansas City a 5-3 lead after five.
Hauer was charged with four runs on three hits over four-plus innings, but did not factor into the decision.
Fargo regained the lead in the sixth with Rick's second three-run home run of the night before Fox's second shot of the night capped the scoring in the bottom of the frame.
Hoorelbeke allowed three runs on five hits over one and one-thirds innings in the loss.
Cruse worked seven and two-thirds innings for Kansas City, allowing six runs on eight hits in the win. Erik Hamren walked the only man he faced in the eighth before Kyle Heim entered and induced a groundout to end the inning.
Franklin Perez earned his fourth save with a perfect ninth inning.
Fox finished two-for-four with four RBI. Rick drove in all six RedHawks runs, going two-for-three in the contest.
The T-Bones look to finish off a sweep tomorrow night as they send left-hander Reid Santos (1-3, 6.07) to face Matt Mossey (3-1, 2.52) and Fargo.