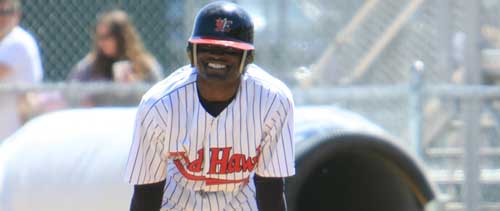 FARGO
, N.D.
– Fargo-Moorhead RedHawks CF Joe Mathis, the RedHawks leadoff hitter and centerfielder since 2003, has announced his retirement from professional baseball, the Northern League club announced.
Mathis, 34, retires as one of the best players to ever don a RedHawks uniform. In six seasons in Fargo-Moorhead, Mathis batted .305 with 136 doubles, 42 triples, 57 home runs, 315 RBIs and 453 runs scored
. Mathis also notched 114 stolen bases, a .858 OPS and appeared in 519 games. He was the catalyst on two Northern League Championship teams, leading Fargo-Moorhead to titles in 2003 and 2006. In his six seasons, the RedHawks advanced to the post-season every year and Mathis helped the team to an incredible 367-201 record and .646 winning percentage.
In addition to his offensive prowess, Mathis made center field at Newman Outdoor Field his own personal playground. He was twice named the Northern League Defensive Player of the Year (2007 & 2008).
Mathis averaged nearly 2.5 putouts per game and committed just 19 errors in 1,335 total chances, good for a .986 fielding percentage.
Mathis garnered numerous awards in his time with the RedHawks. He was the Northern League MVP in 2006 after batting a league-best .359 with 42 doubles, six triples, 11 home runs, 61 RBIs and 95 runs scored in 96 games.
The 42 doubles set a new Northern League single-season record. Mathis was named a Northern League All-Star in 2006 and 2007 and selected to play in the Northern League All-Star Game in 2003, 2004, 2006, 2007 & 2008. He was also named to the Baseball America All-Independent First Team in 2006.
Mathis began his professional career in 1993 after being drafted by the Seattle Mariners in the 27th round of that year's draft out of Strom Thurmond High School in Johnston, S.C.
He progressed up the Mariners chain, and reached the Triple-A level with Tacoma in 1999. Following his release from the Mariners prior to the 2000 season, Mathis signed with the Newark Bears of the Atlantic League, where he spent three seasons and helped the Bears to the 2002 Atlantic League Championship.
In his 16-year career, Mathis batted .286 with 1,594 hits, 287 doubles, 111 triples, 117 home runs, 737 RBIs and 1,008 runs scored in 1,461 games. He stole 292 bases, struck out 1,093 times and walked 532 times.
"Joe is a great player and is a big part of what our organization is all about, both on the field and off," said RedHawks Manager Doug Simunic. "No one out-worked Joe on the field, and he was the guy that made our team go for six seasons. He is a true professional and will be missed."
"Joe has been our franchise player for the past six seasons, and we are excited that he will continue to be a part of the Fargo-Moorhead community in the future. I know he will continue to be involved with baseball by coaching at the youth level and we are proud that he has made Fargo-Moorhead his home," said RedHawks President Bruce Thom. "He is one of the best players to ever come through not only the RedHawks, but the Northern League, and I can assure you we will have a Joe Mathis Bobblehead Day in the near-future."
Plans are in the works for a Joe Mathis Retirement Party at a game this summer. Details will be forthcoming.