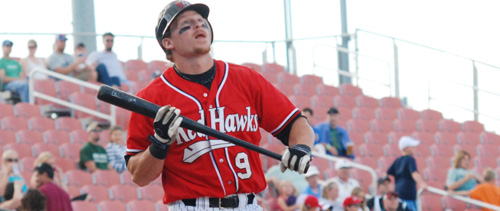 The Schaumburg Flyers weathered a late comeback by the Fargo-Moorhead RedHawks and notched a 10-8 victory in Northern League action on Thursday night at Newman Outdoor Field.
Schaumburg (20-25) raced out to early 5-0 lead in the first inning, taking advantage of an error by Fargo-Moorhead shortstop Zach Penprase and two walks by RedHawks starter Jeremy Hauer (0-1). The Flyers also collected four hits in the inning, including RBI singles by Richard Mercado and Ruddy Yan.
With Fargo-Moorhead (26-17) having closed the gap to 7-5, Schaumburg tacked on three insurance runs in the top of the ninth inning. Tom Fitzgerald, Ron Borquin and Joey Gomes each drove in runs for the Flyers in the frame.
Down five runs in the home half of the ninth, the RedHawks mounted a comeback against Schaumburg reliever Tom Lyons. Penprase walked to lead off the inning and Nic Jackson followed with a bloop single to left field. Lyons then struck out the next two Fargo-Moorhead hitters, bringing second baseman Carlo Cota to the plate. Cota worked the count full and then blasted a three-run home run over the left field wall, cutting the deficit to 10-8.
Cory Patton followed Cota's shot with a line drive through the right side of the infield, bringing the tying run to the plate. With the crowd at Newman Outdoor Field on its feet, Lyons struck out RedHawks designated hitter Kole Zimmerman to end the game.
Flyers starter Brett Harker (2-6) went seven innings, allowing four runs on eight hits while striking out four and walking two.
Hauer gave up seven runs (three earned) over 3.2 innings of action for Fargo-Moorhead. He also struck out one and walked two.
Gomes was 4-for-5 on the night for the Flyers and collected three RBI. Mercado and Yan also each drove in a pair for Schaumburg.
Jackson went 4-for-5 for Fargo-Moorhead while teammates Jesse Hoorelbeke and Cory Patton each went 2-for-5 in the game. Hoorelbeke hit his league-leading 16th home run of the season.
The two teams will meet again tomorrow night at 7:02pm in a battle of Northern League All-Star starting pitchers. Dustin Glant (4-2, 3.35) will get the start for Schaumburg while Matt Mossey (3-1, 2.52) will take the mound for Fargo-Moorhead.