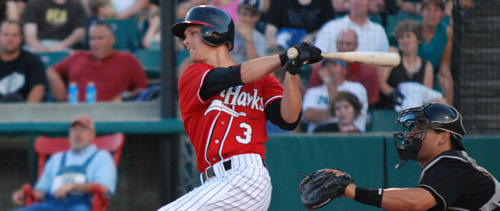 The Fargo-Moorhead RedHawks defeated the Schaumburg Flyers 6-4 on Friday night in front of a sellout crowd of 4,614 at Newman Outdoor Field. The game was billed as a battle of Northern League All-Star starting pitchers, as Fargo-Moorhead's Matt Mossey locked horns with Schaumburg's Dustin Glant. However, neither hurler would factor into the decision.
Instead, it was Moorhead native Jake Krause who stole the show for the RedHawks. With the game tied at four in the seventh inning, Krause came to the plate with Alan Rick on second and Cory Patton on third. The rookie dumped a 1-2 offering from Flyers reliever Matt Elliot into left field, driving in two game-winning runs.
Schaumburg (19-29) allowed four runs to cross the plate in the seventh, all unearned, as the result of a costly error by third baseman Ron Bourquin.
RedHawks (27-17) reliever Casey Hoorelbeke (5-2) made his league-leading 24th appearance of the season, picking up the win. He tossed 2.1 innings in relief, giving up one run on one hit while striking out two and walking two. Fargo-Moorhead's Donnie Smith came on to face one hitter and picked up his sixth save of the season.
Flyers reliever Brian McCullough (2-1) was saddled with the loss after a tough outing. He managed to get only one out while giving up three runs, none earned, on one hit. McCullough also walked one RedHawk hitter.
Nic Jackson, Jesse Hoorelbeke and Jay Cox each picked up a pair of hits in the game for Fargo-Moorhead.
Brandon Newton and Richard Mercado were each 2-for-4 on the night for Schaumburg, with Newton driving in a pair runs. Bourquin hit his third home run of the season in the sixth inning.
The two teams will meet again tomorrow night in game three of their four-game set at Newman Outdoor Field. The Flyers will send Ryan Gehring (3-2, 4.08) to the hill while RedHawks manager Doug Simunic will give the ball to Fargo native Jake Laber (4-2, 3.75). First pitch is scheduled for 6:00pm.