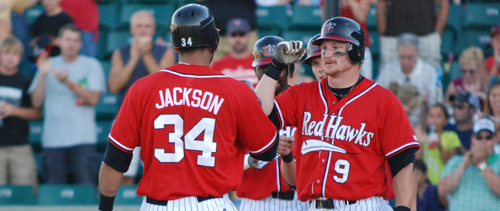 Nic Jackson's grand slam in the bottom of the seventh inning helped propel the Fargo-Moorhead RedHawks to a 5-4 win over the Schaumburg Flyers on Saturday night in front of 3,484 fans at Newman Outdoor Field.
The streaking Jackson came into the game hitting .485 (16-for-33) in the month of July and went 2-for-4 on the night for the RedHawks.
Fargo-Moorhead (28-17) starter Jake Laber (5-2) went 7.1 innings, giving up four runs and scattering nine hits. Laber also struck out four Flyers hitters and did not allow a walk. Of his 99 pitches on the night, Laber threw 77 across for strikes.
Schaumburg (19-30) starter Ryan Gehring (3-3) threw 111 pitches while tossing a complete game, giving up five runs on eight hits. He also struck out four and walked one. None of the runs Gehring allowed were earned, as he was done in by three Flyers errors on defense.
Cory Patton came in from left field to pitch a perfect ninth inning for Fargo-Moorhead and collected his second save of the season.
Mike Coles was 2-for-4 on the night for the RedHawks and also drove in a run. Teammate Kole Zimmeran went 2-for-3 as the Fargo-Moorhead designated hitter.
Schaumburg's Joey Gomes was 3-for-4 with a pair of RBI and shortstop Travis Brown collected two hits in the game for the Flyers.
The two teams will wrap up their weekend series tomorrow afternoon at Newman Outdoor Field with the first pitch scheduled for 1:00pm. Alain Quijano (1-5, 4.75) will get the nod for Schaumburg while T.J. Stanton (2-2, 2.57) will start for Fargo-Moorhead.