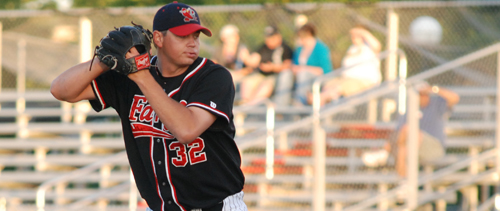 Casey Hoorelbeke came on in relief, pitching 3.2 scoreless innings to lead the Fargo-Moorhead RedHawks 5-1 over the Gary SouthShore RailCats on Tuesday night at Newman Outdoor Field. Hoorelbeke (7-2), making his league-leading 28th appearance of the season, allowed only one hit during his outing.
Fargo-Moorhead (32-19) also received a strong effort from starting pitcher Tyler Seaman. The rookie was on a strict pitch count after returning from injury and was pulled by manager Doug Simunic after only 4.1 innings. After allowing the first three Gary hitters to reach on singles, Seaman settled down and allowed only three hits the rest of the way. He struck out three and walked two while giving up one earned run.
The RedHawks struck early in the opening inning. Shortstop Zach Penprase reached on a single and stole second base. He came around and scored on Nic Jackson's RBI single to center field.
Right fielder Mike Coles extended Fargo-Moorhead's lead to 2-0 in the fifth inning on a sacrifice fly, driving in designated hitter Kole Zimmerman, who reached on a triple. The lead grew to 3-0 in the sixth when Eric Campbell's double to deep left field plated Jesse Hoorelbeke.
Fargo Moorhead tacked on a pair of insurance runs in the ninth inning. With the bases loaded, catcher Alan Rick hit a liner just inside the chalk down the first base line, scoring Jackson and Hoorelbeke.
Gary (26-28) starting pitcher Tom Thornton (1-6) gave up three runs on six hits over 5.2 innings of work. He struck out two and walked one.
Jackson, Campbell and Jay Cox all had two hits on the night for the RedHawks.
RailCats leadoff man Adam Klein was 2-for-3 in the game and scored Gary's only run on Mike Massaro's RBI-single in the first inning.
The two teams will meet again tomorrow night in the third game of their four-game set. Gary righty Nolan Nicholson (2-2, 6.29) is scheduled to take on Fargo-Moorhead southpaw Jake Laber (2-3, 3.61). First pitch is scheduled for 7:02pm.