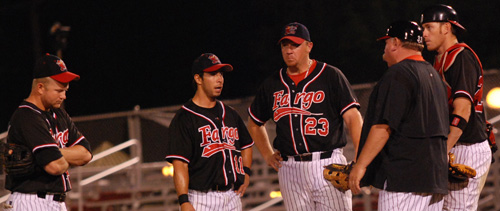 Joliet's Josh Flores certainly didn't let a one hour and 22 minute rain delay hamper him on Friday night. The left fielder was 3-for-4 with two RBI, two runs scored and three stolen bases to key the JackHammer offense in an 8-4 win over the Fargo-Moorhead RedHawks in front of 4,233 fans at Newman Outdoor Field.
Flores manufactured his own offense in the first inning. He led off the game by drawing a walk from RedHawks starter Scott Fogelson and promptly stealing both second and third base. With Joliet slugger Jon Nelson at bat, Fogelson uncorked a wild pitch and the leadoff man scampered home with the first run of the game.
Fargo-Moorhead (34-20) answered in the home half of the first. Right fielder Mike Coles led off with a single and advanced to second on a sacrifice bunt by Zach Penprase. He was then driven home by an RBI-single by center fielder Nic Jackson.
The JackHammers (30-26) received more offense from Flores in the second. After a second baseman Roberto Mena led off the inning with a double, Flores plated him with an RBI-single back up the box to give Joliet a 2-0 lead.
The RedHawks took advantage of Joliet shortstop Kevin Rios' error in the third inning to score three unearned runs off JackHammers starter Todd Privett (5-4). A single by Penprase brought Kole Zimmerman home and Eric Campbell drove in two more with a single of his own to give Fargo-Moorhead a 4-2 lead.
Down 5-4 in the eighth inning, the RedHawks unraveled. The floodgates were opened after an error by Fargo-Moorhead shortstop Penprase, a single by Brad Correll and doubles from Nelson and Freddie Thon. The JackHammers pushed across three unearned runs and took an 8-4 lead.
Privett tossed seven innings for Joliet, giving up four runs on six hits while striking out six and walking two. Only one of the four runs he allowed was earned.
Fargo-Moorhead starter Fogelson had trouble finding the strike zone. He was pulled after 4.2 innings and 100 pitches, allowing four runs on seven hits. He also struck out five and walked two.
Casey Hoorlebeke (7-3) took the loss for the RedHawks in his league-leading 30th appearance of the season. He allowed one run in 2.1 innings of action.
Thon was 4-for-5 for Joliet and drove in a run. Nelson also collected both a pair of hits and RBI.
The two teams will meet again tomorrow night at Newman Outdoor Field. First pitch is scheduled for 6:00pm. Joliet's Rory Shortell (1-4, 5.72) will meet Fargo-Moorhead's Matt Mossey (3-2, 3.02).