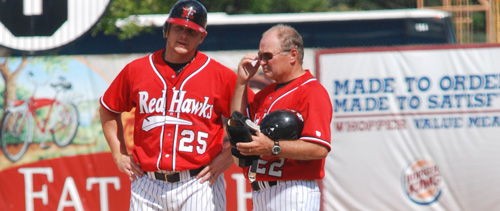 Jay Cox's two out, two-RBI single in the bottom of the eighth inning was the difference as the Fargo-Moorhead RedHawks defeated the Joliet JackHammers 4-2 on Sunday afternoon at Newman Outdoor Field. The win helped the RedHawks prevent being swept at home by an upstart Joliet squad.
Fargo-Moorhead (35-21) received a gutsy performance from starting pitcher Tyler Seaman. The rookie allowed only run and scattered six hits in six innings of work. He also struck out three and walked four. Seaman twice pitched himself out of bases-loaded jams.
Joliet (31-27) struck first in the top half of the sixth inning. Chris Colton lined a Seaman offering off the foul pole in left field, breaking the scoreless tie and giving the JackHammers a 1-0 lead.
Joliet tacked on a second run in the third inning. Speedy leadoff man Josh Flores laid down a beautiful bunt and reached second after Fargo-Moorhead reliever Casey Hoorelbeke (8-3) threw the ball away down the first base line. Flores advanced to third on a deep fly ball by Jonathan Wyatt and came around to score on Brad Corell's sacrifice fly.
The JackHammers got five no-hit innings from starter Devin Anderson. The southpaw was cruising until the seventh, when he allowed Fargo-Moorhead's Jesse Hoorelbeke to reach base on a walk and gave up a single to Eric Campbell. Anderson was given the hook in favor of reliever William Jackal (4-1), who gave up a sacrifice fly to Carlo Cota and an RBI-single to Kole Zimmerman.
With the game tied at two in the eighth, RedHawks right fielder Mike Coles led off with a single. Joliet manager Chad Parker elected to walk Nic Jackson to get to Northern League home run-leader Jesse Hoorelbeke. Hoorelbeke also drew a free pass, leading to Cox's late-innings heroics.
Casey Hoorelbeke made his league-leading 31st appearance of the season and pitched two innings of relief while picking up the win.
Jon Nelson and Ryan Wehrle were each 2-for-4 on the day for the JackHammers. Nelson extended his hitting streak to 17 games.
RedHawks reliever Adam Tollefson faced one hitter in the ninth to pick up his second save of the season.
Joliet will visit Schaumburg tomorrow night while Fargo-Moorhead will kick off a 10-day road trip beginning in Gary.