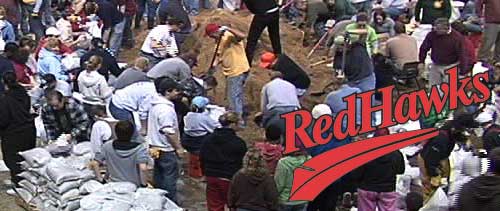 The Fargo-Moorhead RedHawks gave out the last of 4,082 tickets to the May 17 "Cheers To The Volunteers" game on Tuesday to local flood fighters, the Northern League club announced.
The Fargo-Moorhead RedHawks are hosting the "Cheers to the Volunteers" Celebration on Sunday, May 17 when the team takes on the Gary SouthShore RailCats at 1:00 p.m. at Newman Outdoor Field. The RedHawks gave away 4,082 tickets to the game to anyone who helped battle this springs flood. The number 4,082 corresponds to the Red River's record crest of 40.82 feet.
The "Cheers to the Volunteers" event is sponsored by Hornbacher's, Meritcare, Nodak Mutual Insurance, 702 Communications and State Bank & Trust. Additional sponsors for the event are The Forum, WDAY TV, WDAY AM 970 and CI Sport.
In addition to free tickets, the first 5,000 Flood Fighters at the game will receive a t-shirt commemorating the day and the flood battle, while popular local band Carmen The Cactus will play a free post-game concert.
"After nearly 3,500 tickets were claimed on Saturday, we knew it wouldn't take long for the last of the tickets to go," said RedHawks Executive Vice President Brad Thom. "We are excited that those who battled the flood will be able to come out and enjoy a game on us. It's going to be a fun afternoon of baseball, and a great chance for those who fought so hard for our communities to relax for an afternoon."