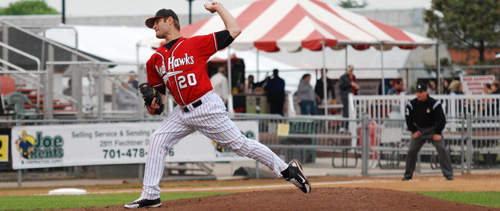 The Fargo-Moorhead RedHawks sent 11 men to the plate in a six-run third inning to salvage a win in a three-game series at U. S. Steel Yard, knocking off the Gary SouthShore RailCats 9-1 Wednesday night.
The first eight hitters in the RedHawks third all reached base against starter Tom Thornton (1-8), who walked four and gave up four hits in the inning. Fargo's lead swelled to 8-0 with a pair of solo home runs in the fifth and that was more than enough for Scott Fogelson (6-2) who allowed just three hits in seven innings.
The Fargo-Moorhead third began with Alan Rick walking and going to second on a Mike Coles single before Zach Penprase walked to load the bases. Nic Jackson came up next and lined a single into right, plating Rick before Coles was thrown out at the plate by right fielder Cristian Guerrero. With the bases loaded once more later in the inning, Jesse Hoorelbeke doubled off the left field wall to make it 3-0, and Fargo got another run on a Jay Cox RBI hit. With two outs and the lead 4-0, Rick batted for the second time in the inning and singled in two more runs to complete the six-run rally.
The RailCats had only three hits in the game but did draw six walks, including five off the starter Fogelson. The RailCats went down in order only once in the first six innings and did score their lone run in the fifth. Mike Reese doubled to lead off that inning and scored one batter later on a John Parham single. The RailCats would load the bases with one out on back-to-back walks later in the fifth, but Tanner Townsend hit into a double play to halt the RailCats best scoring threat.
Thornton lost for the eighth time in his last eight starts, allowing eight earned runs on 11 hits with four walks and five strikeouts. LaPorte native Andy Weeks worked the final three innings, retiring nine of the 10 hitters he faced and striking out two in just his third professional appearance.
Hoorelbeke and Kole Zimmerman each homered in the RedHawks fifth and Nic Jackson added another solo home run, his coming in the ninth, to provide all the Fargo offense. Four different RedHawks had two hits each as Fargo banged out 12 hits, including six for extra-bases. Reese, Parham and Louis Ott – who singled in the second – had the three RailCats hits.