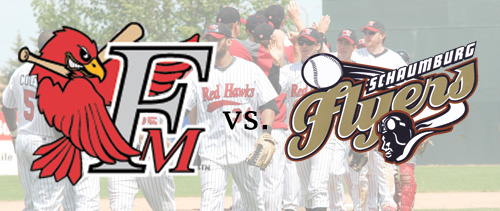 The Fargo-Moorhead RedHawks (37-23) defeated the Flyers (23-40) 9-3 Friday night at Alexian Field to take game one of the three game set. The RedHawks would jump on the Flyers early and never look back.
After a scoreless first inning, the RedHawks would pick up three in the second. All three runs were driven in on back to back homers by Eric Campbell and Alan Rick. At the end of two the score was 3-0 RedHawks.
The Flyers answered back in the bottom of the inning as Joey Gomes hit a home run of his own, cutting the lead to 3-1.
The RedHawks would homer again in the fourth. Cory Patton hammered one over the wall in right field and scored another to make it 5-1.
The Flyers rallied for two scores in the seventh to cut the Fargo lead to 5-3 on a Richard Mercado single that brought home Gomes and Josh Burrus.
Fargo would get one back in the eighth when Nic Jackson launched a moonshot into the batting cages deep out in the rightfield making it 6-3. This was the RedHawks fourth homerun of the contest.
The RedHawks added three more in the ninth stretching their lead to 9-3.
The score would stay that way as the RedHawks grabbed game one of a three game set. Matt Mossey (4-3) was the winner. He pitched six innings, allowed three runs, five hits, struck out four, and walked three. Dustin Glant (5-4) took the loss for the Flyers. The righty tossed 4.1 innings, allowed 11 hits, five runs, struck out two, and walked four.
Game two of the three game set is tomorrow night here at Alexian Field with a first pitch scheduled for 6:00 PM.