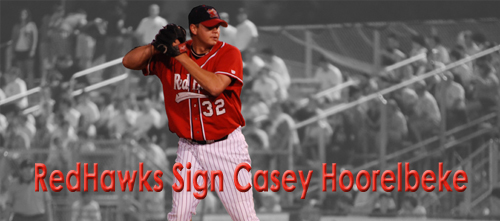 The Fargo-Moorhead RedHawks have re-signed All-Star RHP Casey Hoorelbeke, the American Association club announced today. Hoorelbeke is the second player signed for the 2011 season, joining 2B Carlo Cota on the roster.
Hoorelbeke, 30, was 10-5 with a 1.84 ERA in 52 relief appearances for Fargo-Moorhead in 2010
. He pitched 83.0 innings and allowed 27 runs (17 earned) on 56 hits with 75 strikeouts and 31 walks. Hoorelbeke led the Northern League in ERA and appearances and tied for fifth in wins. Hoorelbeke previous played in the Los Angeles Dodgers and New York Mets organizations, as well as in the Atlantic League.
Hoorelbeke's 52 appearances set a new team record and he was earned several honors for his season.
He was selected to play in the Northern League/Golden Baseball League All-Star Game and following the year was voted the Northern League Relief Pitcher of the Year. Hoorelbeke was also named to the Baseball America All-Independent Leagues 1st Team by the national magazine.