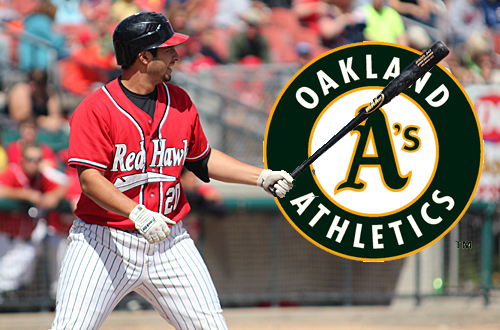 Fargo-Moorhead RedHawks DH/C Ryan Delgado had his contract purchased by the Oakland Athletics organization. Delgado is the eighth RedHawks player to have his contract purchased in the past year and fifth since the end of the season.
Delgado had a monster year in 2012, his first with the RedHawks. He batted .312 with 27 doubles, 20 home runs, 86 RBIs and 66 runs scored in 93 games. Delgado tied for the league lead in home runs, second in RBIs, third in extra base hits (47) and fourth in slugging percentage (.551). He was named an American Association All-Star as designated hitter following the season.
Delgado began his professional career in 2010 after being selected by the Atlanta Braves in the 32nd round of the draft out of Azuza Pacific (CA) University.
"Ryan was a big find for us last year and was a key cog in our offense all season," said RedHawks Manager Doug Simunic. "He put up the numbers and this is a well-deserved opportunity."
REDHAWKS NOTES…The Fargo-Moorhead RedHawks have acquired RHP Alex Sunderland from the River City Rascals of the Frontier League for INF Max Casper. Sunderland was 0-1 with a 2.53 ERA in 21 games for River City last season. He struck out 34 batters in 21.1 innings pitched.
<redhawks>