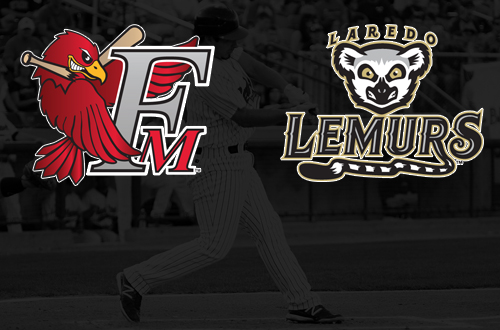 The Laredo Lemurs sweep the defending North Division Champion Fargo-Moorhead RedHawks with a 4-2 win tonight at Uni-Trade Stadium to open up the 2012 American Association season 4-0.

The Lemurs pounced on the RedHawks early with a three runs in the first off starting pitcher Paul Burnside. It all got started with leadoff hitter Jake Opitz opening up the inning with a double, then Sawyer Carroll singled to drive in Opitz from second base to give the Lemurs a one nothing lead. John Allen then doubled for his first of three hits in the game to put runners on second and third. Then Jon Gaston doubled to bring in Carroll and Allen to give the Lemurs an early 3-0 lead.

Fargo struck in the fifth with one out in the inning Ronnie Bourquin singled, followed by a Jose Garcia walk to put runners at second and third. Then Lemurs starting pitcher Leonard Giammanco walked Todd Jennings to load the bases and that's when manager Pete Incaviglia made a move to the pen, bringing in Mark Serrano. Serrano got Zach Penprase to hit a ground ball, which would have been a double play, but Lemurs short stop Jimmy Mojica bobbled the ball and was given an error with Bourquin scoring on the play to make it 3-1 Lemurs. Buddy Sosnoskie would then come to the plate and ground out to first to bring in Jose Garcia from third to make it 3-2 Lemurs.

The Lemurs would put another run on the board in the sixth after a Garrett Rau double and a Jimmy Mojica base hit with the hit and run play on to make it 4-2 Lemurs.
Mark Serrano picked up the win moving him to 2-0 on the year. Paul Burnside took the loss and is now 0-1 in the early going of the American Association season.