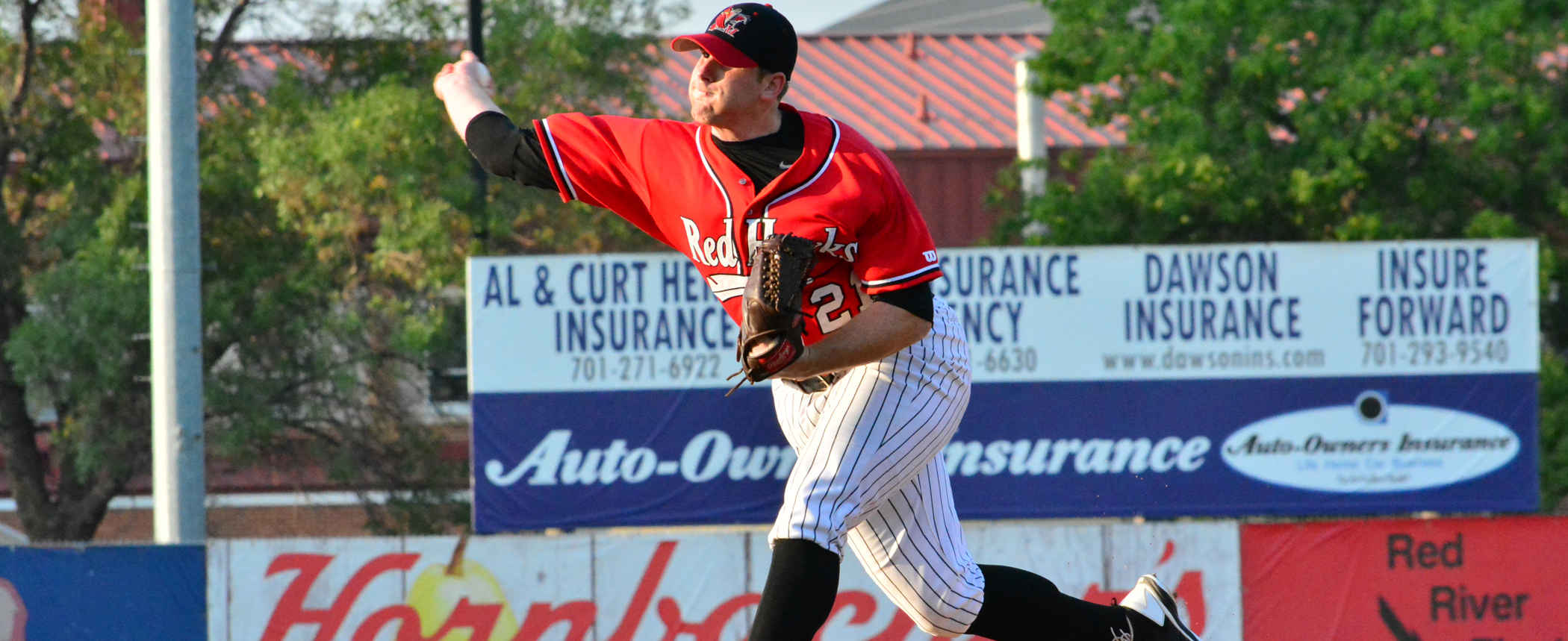 A two run blast by C.J. Retherford in the bottom of the sixth frame and a 2-run double by Erik Castro were all the RedHawks needed to snap a 7-game losing streak in front of an eighth sellout crowd of the season at 4,463 fans on Thursday night at Newman Outdoor Field in Fargo, ND.
Both of the starters were locked in for a duel, where Taylor Stanton held the Gary's hitters to one hit in first four innings, while his opponent Dustin Crenshaw allowed two in the same time frame. Trouble for Stanton came in the top of the fifth, when back-to-back hits by Craig Maddox and Wally Backman meant runners on first and second.After a strikeout and another base hit to load the bases, Drew Muren grounded into a 4-6-3 double play, however, he did not agree with the base umpire's decision, which led to Muren being ejected.
First runs of the evening came two innings later. Zach Penprase opened up the bottom of the sixth inning with a seven-pitch walk. Tagging on a tough fly ball to a third baseman, Penprase moved to a scoring position on a groundball by Sawyer Carroll. Two outs were no problem for C.J. Retherford. The very first pitch of his at-bat, he lifted a ball over the left field wall, for a 2-run home run and a 2-0 RedHawks lead.
The Fargo-Moorhead RedHawks got 2 insurance runs in the bottom of the eighth inning. Ronnie Bourquin started with one man out and got a base on balls. With two outs, Retherford had gotten one as well, and Erik Castro found a gap for a double to left field, plating both Bourquin and Retherford to increase the lead to 4-0.
The Gary SouthShore RailCats got themselves on the board in the top of the ninth. Nate Garcia gave up a one-out triple to Jose Garcia, who later scored on Cody Bishop's single to make it a three-run ballgame. That was all the 'Cats were able to do.
At the plate, Retherford was 1-for-3 with a walk and a two-run home run (2 RBI). That was his ninth of the 2014 season.
Castro, losing his 12-game hitting streak in last night's loss was 2-for-3 in tonight's triumph, with a walk, single and a double and 2 RBIs.
After the game, the pitching records were the following: the win went to Taylor Stanton (4-9), while the loss to Dustin Crenshaw (7-6). There was no save in the game, as Nate Garcia came into the top of the ninth with a 4-run lead.
Second game of the four-game series against Gary picks up with tomorrow's game at 7:02pm. For tickets, please click on www.fmredhawks.com or call (701) 235-6161.