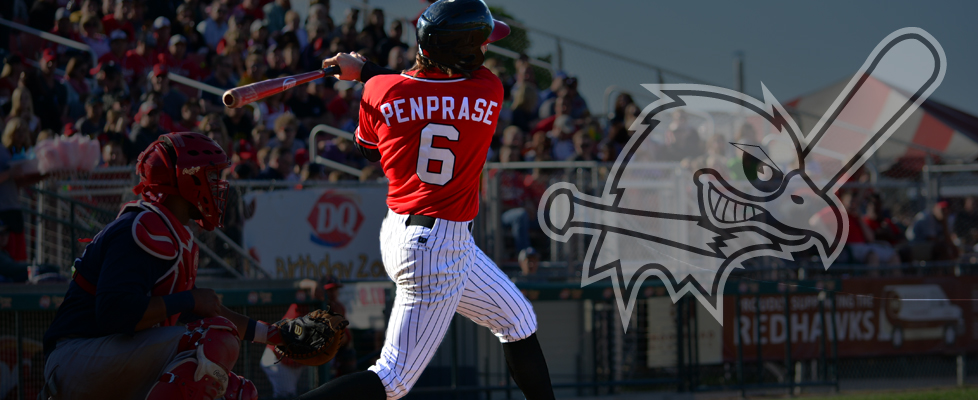 Fargo-Moorhead RedHawks manager Doug Simunic has gotten used to penciling in Zach Penprase's name into the lineup nearly every day since 2008. That routine will continue in 2015, as Penprase has signed a contract that brings him back to the RedHawks for a franchise-record eighth season.
Penprase batted .276 with 24 doubles, two triples, four home runs, 32 RBIs and 55 runs scored in 93 games for Fargo-Moorhead in 2014. He stole 19 bases in 24 attempts and posted a .349 on-base percentage. In the field, Penprase committed 11 errors in 78 games at shortstop while posting a .968 fielding percentage.
Penprase, 30, is the RedHawks all-time leader in games played (635); at bats (2,449); runs scored (512); hits (694); walks (329) and stolen bases (248). He is also the American Association career stolen base king with 139 steals from 2011-2014.
Penprase began his professional career in 2006 after being selected by the Philadelphia Phillies in the 13th round of the draft out of Mississippi Valley State University. After two seasons in the Phillies organization, he signed with the RedHawks for 2008 and quickly established himself as the RedHawks everyday shortstop. He did spend the end of the 2008 season in the Boston Red Sox organization after his contract was purchased from the RedHawks.
"Zach has been a part of a lot of wins and a lot of good times with the RedHawks," said Simunic. "He still has a passion for the game and the ability to be a game-changer with this bat, legs and glove. I'm excited to have him back."