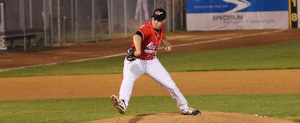 FARGO, ND – Despite outhitting the Canaries 12-5, the Fargo-Moorhead RedHawks fell to the Sioux Falls Canaries by a 4-3 final on Tuesday night in front of 2,510 RedHawks faithful at Newman Outdoor Field.

After an hour and forty-seven minute rain delay, the RedHawks jumped on the board first in the second inning. Drew Muren lead off with a double lined into left-center and he was drove in right after on a chopper up the middle from Joe Staley to take the 1-0 lead.

The Canaries would strike back in the top half of the third. RedHawks starter Mike Mason walked David Bergen and allowed an infield single to start the inning. They would score on a sac fly from Jerome Pena and a wild pitch from Mason. They would add another in the fourth as former Minnesota Twin Jason Repko began the inning with a walk and was later driven in by David Bergen giving Sioux Falls a 3-1 lead.

Fargo-Moorhead gained one back in the fourth. Charlie Valerio roped a ball to the wall in left-center to leadoff the inning. Drew Muren sent a grounder right up the middle bringing Valerio around third and on home cutting the Canaries lead down to 3-2.

The RedHawks had an opportunity to tie things in the bottom half of the fifth. Zach Penprase lead off the inning with a double and was advanced to third. Joe Bonfe was plunked on the elbow putting runners on the corners, but Charlie Valerio flew out to deep left ending the inning.

Sioux Falls threatened with bases loaded in the sixth. Paul Raglione relieved Mike Mason with two outs in the inning and walked one loading the bases. He proceeded to plunk Vickash Ramjit giving the first baseman an RBI. Tyler Alexander came in and struck out Jerome Pena ending the threat for the Canaries.
Alexander was stellar in relief. He went 2.1 innings and faced eight batters. Of the eight, he walked one, forced a popout, and struck out six of them.

Fargo-Moorhead has had issues with stranding runners on base all season, and the same held true Tuesday night. The RedHawks left two runners stranded for four straight innings. From the fourth through the seventh frames, Fargo-Moorhead left base runners on their paths.

Leadoff walks proved to be an issue that cost Fargo-Moorhead. Mason started off the third, fourth, and sixth innings with leadoff walks, and each of those three would wind up scoring later on in the inning.

Miguel Pena (4-1) earned the win for the Canaries, going 6.2 innings, allowing three runs (all earned) on 12 hits with one strikeout. Mike Mason (1-2) took the loss for Fargo-Moorhead after going 5.2 innings allowing four runs (all earned) on five hits. Chase Johnson earned his sixth save of the season.

The RedHawks drop to 7-18 while the Canaries get to .500, now sitting at 13-13. Game three of the four game set is scheduled for tomorrow night at 7:02 p.m.

Game Date: 06/16/2015
Sioux Falls Canaries 4 AT Fargo-Moorhead RedHawks 3

YTD YTD
S Falls AB R H BI AVG Fargo AB R H BI AVG
V.Ramjit 1B 3 0 0 1 .222 Z.Penprase SS 5 0 1 0 .274
J.Pena SS 4 0 1 1 .275 F.Salerno 2B 5 0 2 0 .295
M.Wing 2B 2 0 0 0 .255 C.Mozingo LF 5 1 1 0 .321
R.Stock C 4 0 1 0 .347 J.Bonfe 1B 2 0 0 0 .278
R.Perucki 3B 3 1 0 0 .338 C.Valerio C 5 1 1 0 .324
J.Repko RF 3 1 0 0 .236 D.Muren CF 5 1 3 2 .286
B.Humphries LF 4 0 0 0 .258 J.Staley DH 4 0 2 1 .328
D.Bergin DH 2 1 2 1 .311 J.Dunigan RF 4 0 2 0 .194
H.Kain CF 3 1 1 0 .236 B.Peterson 3B 3 0 0 0 .222
28 4 5 3 38 3 12 3

S Falls 0 0 2 1 0 1 0 0 0 - 4 5 0
Fargo 0 1 0 1 0 0 1 0 0 - 3 12 0
2B--R.Stock (9), Z.Penprase (8), F.Salerno (3), C.Valerio (6), D.Muren (2).
RBI--V.Ramjit (11), J.Pena (9), D.Bergin (14), D.Muren 2 (9), J.Staley
(9). HP--V.Ramjit (3), J.Bonfe 3 (3). SF--J.Pena (2). SH--V.Ramjit (0).
SB--M.Wing (5), J.Repko (4).
LOB--S Falls 8, Fargo 12. DP--F. Salerno(2B) - B. Peterson(3B) - J.
Bonfe(1B).
YTD
IP H R ER BB SO HR ERA
S Falls
M.Pena (W,4-1) 6.2 12 3 3 0 1 0 2.65
T.Pearson 1.1 0 0 0 1 3 0 2.77
C.Johnson (S,6) 1.0 0 0 0 0 1 0 0.82
9 12 3 3 1 5 0
Fargo
M.Mason (L,1-2) 5.2 5 4 4 5 4 0 5.89
P.Raglione 0.0 0 0 0 1 0 0 4.77
T.Alexander 2.1 0 0 0 1 6 0 4.70
T.Kelley 1.0 0 0 0 1 2 0 4.38
9 5 4 4 8 12 0
WP--M.Mason (5). PB--C.Valerio. HB--M.Pena 2 (2), C.Johnson (1), P.Raglione
(4). SO--V.Ramjit, J.Pena 2, R.Stock 2, R.Perucki 2, J.Repko 2, B.Humphries
2, H.Kain, Z.Penprase, C.Mozingo, D.Muren, J.Staley, J.Dunigan. BB--M.Wing
3, R.Perucki, J.Repko, D.Bergin 2, H.Kain, B.Peterson. BF--M.Pena 33 (146),
T.Pearson 5 (53), C.Johnson 4 (41), M.Mason 26 (90), P.Raglione 2 (56),
T.Alexander 8 (37), T.Kelley 3 (55). P-S--M.Pena 99-65, T.Pearson 25-15,
C.Johnson 11-7, M.Mason 121-73, P.Raglione 7-2, T.Alexander 41-24, T.Kelley
18-10.
T--3:05. A--2510

Weather: 1 hr, 47 min Rain Delay