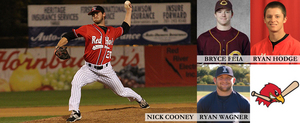 FARGO, N.D. – The Fargo-Moorhead RedHawks have begun building the 2016 roster by signing four rookie players to contracts. The RedHawks have re-signed LHP Nick Cooney and signed LHP Bryce Feia, INF Ryan Hodge and C Ryan Wagner. They are the first four players signed for the upcoming season.
Cooney, 23, joined the RedHawks in August of last season after a standout career at Wesleyan University (Conn.). He appeared in 16 games out of the bullpen and was 1-2 with a 3.74 ERA and one save. Cooney pitched 21.2 innings and allowed ten runs (nine earned) on just 12 hits. He struck out 19 batters and walked 22.
At Wesleyan in 2015, Cooney was 8-2 with a 2.73 ERA in 12 games (ten starts) in leading the Cardinals to a second consecutive NESCAC title and berth in the NCAA Tournament. He was named to the All-NESCAC Second Team. In four years at Wesleyan, Cooney was 22-8 with a 3.23 ERA and one save. He is the school's career record holder in strikeouts (252) and allowed just 162 hits in 220.0 career innings for the Cards.
Feia, 23, played college baseball at Concordia College in Moorhead, where he set the school's single-season save record (10) as a senior in 2015. He was 1-2 with a 2.63 ERA in 19 appearances. Feia allowed eight runs (seven earned) on 19 hits in 24.0 innings pitched. He struck out 26 batters and walked seven.
Feia was named to both the ABCA and D3Baseball.com All-Region Teams and was also tabbed for the MIAC All-Conference squad. He spent the summer of 2015 pitching for the Medicine Hat (Alberta) Mavericks of the Western Major Baseball League, where he was 3-3 with a 4.29 ERA and five saves in 24 appearances.
Hodge, 22, completed his college career at Gardner-Webb University (NC) in 2015. As a senior, he batted .305 with 13 doubles, one triple, three home runs, 23 RBIs and 33 runs scored in 53 games. Hodge was a four-year starter at shortstop for the Bulldogs and appeared in 219 games. In his career, he batted .288 with 33 doubles, five triples, five home runs, 83 RBIs, 124 runs scored and 65 stolen bases.
Wagner, 24, spent two seasons with Bacone College (Okla.) after playing two seasons of junior college baseball. As a senior, he batted .303 with six doubles, one triple, four home runs, 33 RBIs and ten runs scored in 45 games. Wagner also threw out 40 percent of would-be base-stealers. As a junior in 2014, Wagner batted .307 with 17 doubles, one triple, three home runs, 40 RBIs and 15 runs scored in 54 games.