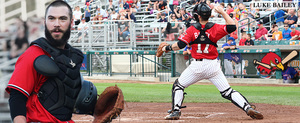 The Fargo-Moorhead RedHawks have re-signed C Luke Bailey. Bailey is the fifth player signed for the 2016 season.
Bailey, 24, joined the RedHawks as a free agent in early August after being released by the Laredo Lemurs. In 33 games with Fargo-Moorhead, he batted .297 with nine doubles, six home runs, 24 RBIs and 23 runs scored. In 23 games at catcher, he threw out 35 percent of would-be base stealers. Bailey appeared in 51 games for Laredo to start the season and batted .214 with eight doubles, eight home runs, 25 RBIs and 25 runs scored.
"Luke came in and solidified our catching position and our line-up," said RedHawks Manager Doug Simunic. "He was solid behind the plate both handling pitchers and controlling the running game and he has a lot of pop in his bat. We think he is one of the top catchers in the league and are happy he is back this year."
Bailey began his professional career in 2010 after being selected by the Tampa Bay Rays in the fourth round of the 2009 draft out of Troup County High School in LaGrange, GA. He worked his way up to Double-A in the Rays system before being released in spring training in 2015. In six seasons of professional baseball, Bailey has batted .219 with 65 doubles, two triples, 36 home runs, 156 RBIs and 142 runs scored in 342 games. He has thrown out 33 percent of base stealers in his career.