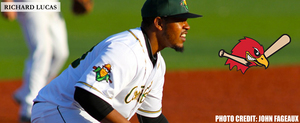 FARGO, N.D. – The Fargo-Moorhead RedHawks have acquired Frontier League All-Star 3B Richard Lucas from the Normal Cornbelters for a player to be named later and cash.
Lucas, 27, batted .282 with 20 doubles, 19 home runs, 77 RBIs and 50 runs scored in 91 games. He finished second in the Frontier League in RBIs and was fifth in home runs. Lucas was selected to play in the 2015 Frontier League All-Star Game for his efforts.
Lucas began his professional career in 2007 after being selected by the New York Mets in the fourth round of that year's draft out of Wolfson High School in Jacksonville, Florida. He spent seven seasons in the Mets organization, reaching the Double-A level in 2013. He then signed with Normal for the 2014 season and returned to the Cornbelters in 2015.
In nine professional seasons, Lucas has batted .253 with 146 doubles, 14 triples, 74 home runs, 385 RBIs and 398 runs scored in 741 games played. He has played 534 games at third base and has also seen action in 178 games at first base.
"Richard is a big right-handed power bat who should give us the stability at third base that we were lacking last season," said RedHawks Manager Doug Simunic. "He hits for power and average, can drive in runs and has a lot of experience at third. We think he's a good fit for our club."