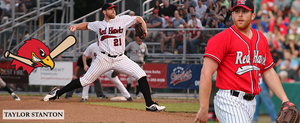 FARGO, N.D. – The Fargo-Moorhead RedHawks will have a familiar face back in the starting rotation, as the club re-signed RHP Taylor Stanton for the 2016 season. It will be Stanton's fourth season with the RedHawks, and he is the seventh player signed for the upcoming campaign.
Stanton, 28, was 6-4 with a 4.21 ERA in 20 starts for Fargo-Moorhead in 2015. He pitched 124.0 innings and allowed 66 runs (58 earned) on 126 hits. Stanton struck out 97 batters and walked 42. He finished last season second on the RedHawks in games started, third in innings pitched and fourth in strikeouts. In three seasons in Fargo-Moorhead, Stanton is 21-19 with a 3.82 ERA and 282 strikeouts in 59 starts. He was named the American Association Pitcher of the Year in 2013.
Stanton joined the RedHawks in 2013 after pitching five seasons in the Seattle Mariners organization. He was selected by the Mariners in the 26th round of the 2008 draft out of Diablo Valley College in California, and advanced to the Double-A level in both 2011 and 2012. In his eight professional seasons, Stanton is 53-46 with a 4.24 ERA in 177 games (133 starts).
Stanton is currently pitching in the Australian Baseball League for the Brisbane Bandits, where he is 2-1 with a 3.48 ERA in 14 games (one start). Stanton has recorded 28 strikeouts and six walks in 31.0 innings pitched.
"Taylor was a very steady performer for us last season after a rough 2014 when he wasn't 100 percent," said RedHawks Manager Doug Simunic. "He is a smart pitcher with lots of experience in this league. We expect him to come back and be a top of the rotation guy for us again this summer."