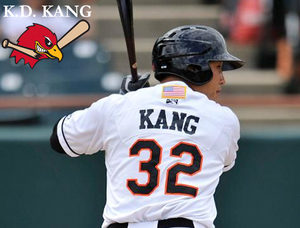 The Fargo-Moorhead RedHawks have made a series of roster moves in recent days as the club gears up for the start of the 2016 season with a pair of signings and a trade. The RedHawks have signed OF K.D. Kang, RHP Mike Bradstreet and acquired LHP Will Mathis from the Lincoln Saltdogs for cash.
Kang, 28, spent last season with the Mississippi Braves of the Southern League (AA). He batted .269 with 15 doubles, six triples, six home runs, 51 RBIs and 48 runs scored in 118 games for the Braves and was released by Atlanta at the end of spring training this year.
Kang was originally selected by the Tampa Bay Rays in the 15th round of the 2006 draft out of Chattahoochee Valley Community College (AL). He began his professional career in 2007 and reached the Double-A level in the Rays organization from 2011-2013. In 2014, he signed with the Baltimore Orioles and spend the year with the Bowie (MD) Baysox of the Eastern League (AA).
In his nine-year professional career, Kang has batted .269 with 165 doubles, 44 triples, 74 home runs, 358 RBIs and 412 runs scored in 844 games. A native of South Korea, Kang moved to the United States as a teenager and attended high school in Georgia.
Bradstreet, 24, was 6-10 with a 4.24 ERA in 21 games (19 starts) for the Can-Am League champion Trois-Rivieres Aigles last season. He pitched 119.0 innings and allowed 72 runs (56 earned) on 130 hits. Bradstreet struck out 64 batters and walked 24.
Bradstreet began his professional career with the Douglas (AZ) Diablos of the Pecos League in 2014 after completing his college career at the University of Rhode Island. After going 4-5 with a 4.79 ERA in 12 games (11 starts) for Douglas, he signed with Trois-Rivieres. Bradstreet was 4-1 with a 3.42 ERA in eight starts for the Aigles to complete the 2014 season.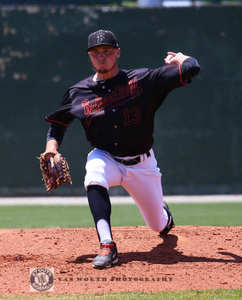 Mathis, 25, pitched last season with the Bakersfield Blaze of the California League (High-A) as a member of the Seattle Mariners organization. He was 4-2 with a 3.23 ERA and one save in 45 games, including one start. In 83.2 innings pitched, Mathis allowed 35 runs (30 earned) on 85 hits. He struck out 66 batters, walked 27 and he held left-handed batters to a .231 batting average against him.
Mathis was selected by the Mariners in the 25th round of the 2013 draft out of the University of New Mexico. In three professional seasons, he is 10-11 with a 3.99 ERA and nine saves in 108 games (four starts). He has pitched 189.2 innings and recorded 156 strikeouts. He was signed by Lincoln this spring following his release by the Mariners.