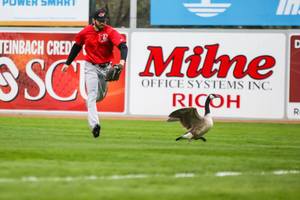 The RedHawks scored twice in the top of the sixth inning to take a lead they would not relinquish. With the Goldeyes leading 1-0, Ryan Pineda was hit by a pitch leading off, and scored the tying run when KD Kang drove a double to the left-centre field wall. Kang advanced to third on a wild pitch, and eventually scored on Brian Humphries' groundout to second base to give the RedHawks a 2-1 lead.
Fargo added two runs more runs in the top of the eighth to make it 4-1. A Chad Mozingo hit batsmen and a Pineda walk set up first and second with no outs. After the pair of runners moved ahead 90 feet on a passed ball, Mozingo scored when Kang grounded out to second base. Pineda took third on the same play, and later scored on Josh Mazzola's sacrifice fly to left field.
The Goldeyes pulled within 4-2 in the bottom of the eighth when Wes Darvill scored on a wild pitch. Darvill opened the inning with a double, and had previously given the Goldeyes a 1-0 lead in the fifth when he drove in Casio Grider with a two-out, RBI single to left-centre. Grider reached on a bunt single and promptly stole second base before coming home on Darvill's hit.
RedHawks' reliever Travis Ballew pitched a scoreless bottom of the ninth to earn his first save of the spring.
The Goldeyes' pitching staff totaled 10 strikeouts. Starter Mikey O'Brien logged three shutout innings, allowing one hit and striking out three. O'Brien threw first-pitch strikes to eight of 12 batters faced and took a no-decision. Duke von Schamann (0-1) took the loss in relief, but struck out four batters in three innings. von Schamman needed only 38 pitches to get through his three frames. Cameron McVey fanned two during a perfect ninth.
Tyler Stirewalt (1-0) was credited with the win in relief for the RedHawks. Fargo-Moorhead starter Richie Mirowski threw four scoreless innings and took a no-decision.
With the score still tied in the top of the fifth, Goldeyes' right fielder David Rohm made a sprinting, over-the-shoulder catch on the warning track to initiate an inning-ending double play. Each team's centre fielder also made a sliding catch across the wet outfield grass with Mozingo robbing Jacob Rogers in the second, and Reggie Abercrombie denying Charlie Valerio in the seventh.
The RedHawks play game two of their exhibition series against the Goldeyes on Wednesday night at 6:05 p.m. in Winnipeg. The RedHawks return home to play the St. Paul Saints Thursday afternoon at 2pm at Concordia College (Moorhead, Minn.) and 11am on Friday at Newman Outdoor Field. Thursday's game at Bucky Burgau Field is free and open to the public. Tickets for Friday's game at Newman Outdoor Field are available at the RedHawks Ticket Office and online.
PHOTO: Dan LeMoal