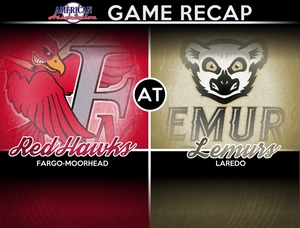 The RedHawks were held to just three hits in 13 innings, but it was the third hit that proved to be all they needed. Luke Bailey's solo home run in the top of the 13th broke a scoreless game and put the RedHawks on path to a 1-0 win over the Laredo Lemurs.
A pitching clinic was put on Saturday night in Laredo as Tyler Herron took the mound for the RedHawks against Matt Sergey for the Lemurs. Sergey started the 2016 season the way he finished 2015, by not allowing runs. Sergey started three games late in the season for Laredo last year and didn't allow a run in any of them. His American Association scoreless inning streak of 20 was extended by another six innings Saturday as he struck out seven, walked two, and allowed only two hits.
Tyler Herron matched Sergey every step of the way and pitched into the 9th inning before giving way to the RedHawks bullpen. Herron scattered five hits over 8.1 innings, walking one and striking out four.
After giving up the walk-off HBP Thursday night, Tyler Stirewalt was able to get the win Saturday as he came in for the RedHawks in the bottom of the 12th and struck out Drew Martinez, Reggie Wilson, and Alvaro Rondon.
The scoreless game came to an abrupt end as RedHawks catcher Luke Bailey started the top of the 13th by crushing the second pitch he saw from Laredo reliever Ryan Beckman over the fence to put Fargo-Moorhead up 1-0.
Travis Ballew came on to close out the game and pitched a clean 1-2-3 13th getting Lemurs number three hitter Travis Denker to pop out to Ryan Pineda at second base.
The Lemurs and RedHawks finish up the four-game series in Laredo on Sunday night at 7:05 p.m.