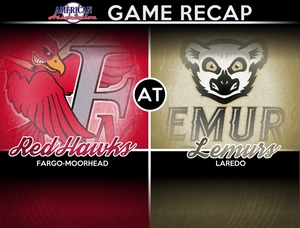 The Laredo bats came alive tonight with the Lemurs needing a win to split the season opening series with the Fargo-Moorhead RedHawks. The Lemurs tallied six runs on 14 hits as they outpaced the RedHawks 6-3 splitting the series with wins in game one and in game four.
Laredo got off to a fast start after starter Henry Garcia struck out two batters in a shutout top of the first. The bottom of the inning saw the Lemurs get four hits and load the bases with one out. RedHawks starter Taylor Stanton would settle in and manage to only give up one run that inning, leaving the runners on base. Still, Laredo had a lead after one until the third inning when Fargo-Moorhead would tie the ballgame thanks to an RBI single by Ryan Pineda and it was starting to look like another pitching duel.
The Lemurs would drive a run in on a Ty Morrison single, his third of four hits in the game, in the 4th inning. The bats would stay hot in the 6th and 7th innings as well as Laredo would score two runs in each. Travis Denker came up with a big two-run double in the 7th to put the Lemurs back up by three after the RedHawks had scored two runs of their own in the top half of the inning. That 6-3 score after seven innings would hold for the rest of the game as the Lemurs got their second win of the season and improve to 2-2 on the year.
Henry Garcia got his first win of the season throwing 6.2 innings and allowing three runs on seven hits. He also walked two and struck out three in the ballgame. Kamakani Usui and Jeff Inman would each come out of the bullpen
tonight
and hurl scoreless innings. Usui with 1.1 shutout innings
tonight
with four strikeouts and a walk. Inman recorded his first save of the year throwing a shutout inning in the 9th striking out one batter while also walking one.
The RedHawks travel to Grand Prairie to take on the Texas AirHogs in a three game series Monday - Wednesday.