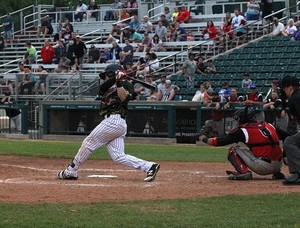 Down by four with two outs, some huge hits almost gave the Fargo-Moorhead RedHawks a chance to win their game Monday night at Newman Outdoor Field against the Sioux City Explorers. The Explorers used contributions from Derrick Robinson and Noah Perio and solid defensive play to keep the home team on the ropes for most of the night and gut out an 8-7 victory.
The X's got on the board as quickly as they could when Robinson wheeled along the basepaths for a leadoff triple in the top of the first inning. Perio hit a sacrifice fly for the first of his four RBIs of the night. In the second they were threatening again with runners on second and third with one out, thanks to a couple of F-M errors. However, the next two batters grounded out to first and struck out to keep them stranded. The third started with Robinson's speed being a big factor once again, he avoided a double play by attempting to steal second and then stole third. Perio scored him by knocking a double. Perio later scored on an RBI by Jarek Cunningham.
After one run by the 'Hawks in the bottom of the third, the X's piled in very similar fashion. There was a very costly error, and Robinson scored on an RBI by Perio. In total four runs were added. Luckily for the home team in the bottom of the inning, Bryan Johns blasted a three run home run to keep them within striking distance at 7-4.
Perio provided an insurance run in the sixth with his second sacrifice fly and fourth RBI of the game. The game looked all but sealed from there until two outs in the bottom of the ninth. Chad Mozingo broke free from his slump to get things going with a double, he was brought home on a double by Ryan Pineda. Pineda then came home on an RBI single from Keury De La Cruz' second RBI of the night. The game then appeared to be over again when Josh Mazzola hit up a pop-up into the outfield, but wind made it hard to play and the ball fell between three Sioux City fielders, scoring Cruz. Unfortunately that's as far the rally would go and the tying run was stranded at second.
Cody Forsythe (1-1) was tabbed with the win and Tyler Harris (0-1) took the loss. Game two of the series will be Tuesday night at 7:02 p.m.