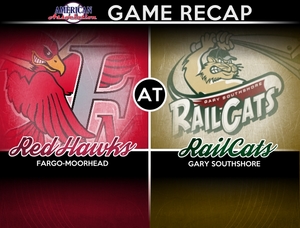 GARY, IN- Tyler Herron pitched a gem and held the Gary SouthShore RailCats to just four hits in a 3-1 Fargo-Moorhead RedHawks victory. Harron's masterpiece was seen by 2,236 fans as Fargo (11-7) claimed the series win over the RailCats (9-11) at US Steel Yard.
Alex Gunn began on the mound for the RailCats in his first start of the season. Gunn, whose previous season-long outing was 2.1 innings, made it four innings surrendering just two hits while striking out five. AJ Quintero is charged with the loss for the RailCats after being signed today. He went 2.2 innings giving up two runs (one earned) on two hits and two walks.
Herron continued his impressive season by going eight strong innings. He allowed just four hits while striking out eleven batters. The RailCats pushed across a run in the 8th inning, the first allowed by Herron on the season.
Pitching dominated the first five innings until the RedHawks were able to push across a run in the 6th. They added another in the 7th two singles and two walks. The RailCats scored their first run of the contest in the 8th after a Randy Santiesteban double and Cameron Newell's single.
The RedHawks weren't done, though. They added an insurance run off of reliever Andy Roberts in the 9th. They used singles by KD Kang and Brian Humphries to get in scoring position before a Kes Carter sacrifice fly scored the run.
RailCat batters continued to struggle against Fargo with no hitters reaching base multiple times. They have combined for just 11 hits in the last 24 innings against the RedHawks.