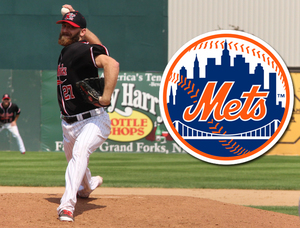 FARGO, ND – The Fargo-Moorhead RedHawks have sold the contract of RHP Tyler Herron to the New York Mets organization. Herron will report to the Mets' Eastern League (Double-A) affiliate, the Binghamton (NY) Mets.
Herron, 29, was leading the American Association with a 0.80 ERA to go with a 5-1 record this season with Fargo-Moorhead. In 56.0 innings pitched, he had allowed just five runs on 31 hits while holding opponents to an incredible .161 batting average against him. Herron was third in the American Association in strikeouts with 47 and recorded two complete game shutouts. He will not make his scheduled start tonight as the RedHawks open a three-game series against the Sioux City Explorers and will be replaced by LHP Will Mathis.
Herron originally joined the RedHawks in 2012 and after an All-Star season he was signed by the Washington Nationals organization and advanced to the Triple-A level. He returned to Fargo-Moorhead in 2015 and was 6-7 with a 4.47 ERA in 20 starts last year. Herron was a first round draft pick of the St. Louis Cardinals organization in 2005, and he spent the 2005-2009 seasons in the Cardinals and Pittsburgh Pirates minor league affiliates. He pitched in 2010 with the Kalamazoo (MI) Kings of the Frontier League before missing all of 2011 due to rehabilitation from surgery.
Herron is the fifth player signed by the RedHawks in 2016 to have his contract purchased by a Major League organization, and 70th overall in franchise history. Other RedHawks players signed this year by Major League organizations include: INF Kevin Taylor (Mets); RHP Dixon Llorens (Los Angeles Angels); RHP Drew Muren (Arizona Diamondbacks); and RHP Travis Ballew (Miami Marlins).