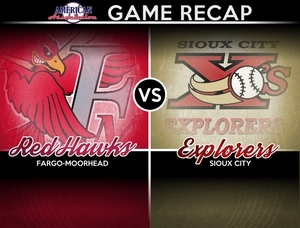 Sioux City, IA- The Sioux City Explorers were not able to replicate their July 4th performance, falling to Fargo Moorhead at Mercy Field at Lewis and Clark Park, with a score of 15-3 in nine innings.
Fargo-Moorhead jumped ahead to a quick 7-0 lead after six and a half innings. RedHawks recorded a run in the first, third and sixth innings, and four huge runs in the seventh, giving them a demanding seven run lead.
Explorers tacked on their first run in the bottom of the seventh. X's first baseman Matt Koch led-off the inning with a solo home run, his second of the series (grand slam on July 4th), to cut the lead to 7-1.
The RedHawks answered with five runs in the eighth. Fargo-Moorhead knocked in three runs on two RBI singles, and another two runs on an RBI double by Josh Mazzola.
Sioux City entered their final two runs in the bottom of the eighth. With a runner at first and one out, Matty Johnson ripped a triple off the wall to score the runner at first base. Johnson crossed home on the next at-bat off a Tim Colwell 1-3 groundout.
Fargo-Moorhead chalked up three more runs in the ninth, extending their lead to 15-3, which would wind up being the final score of the game.
RedHawks left-hander Will Solomon (2-0) received the victory for Fargo-Moorhead, pitching a scoreless 5.2 innings on the night. Explorers starter Graham Johnson (3-2) was charged with the loss, allowing seven runs (only three earned) in seven innings pitched.