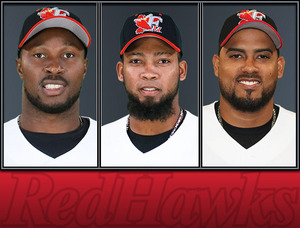 The Fargo-Moorhead RedHawks announce the re-signings of pitcher Jose Almarante, outfielder Keury De La Cruz and catcher Charlie Valerio to the 2018 roster. All three players are natives of the Dominican Republic and were previously signed by MLB teams as non-drafted free agents (Almarante – St. Louis Cardinals, 2007; De La Cruz – Boston Red Sox, 2009; Valerio – Cleveland Indians, 2010).
Almarante reached as high as AA in his minor league career, playing for the Springfield Cardinals of the Texas League in 2013. He has pitched for the RedHawks since 2016.
"Jose has been one of the top pitchers in the league since he's come to Fargo-Moorhead, and we're thrilled to have him back again for 2018," said RedHawks Manager Michael Schlact. "He is a competitive, hard throwing kid with a will to win who takes pride in what he does every time he steps on the field. We're looking for big things out of him this season both on and off the field."
In 21 appearances (19 starts) last season, Almarante posted a 6-7 record, with a 3.79 ERA and 118 strikeouts in 133 innings. He allowed 65 runs (56 earned) while walking 36.
De La Cruz's contract was purchased by the Seattle Mariners at the beginning of the 2017 season. He played for the Arkansas Travlers (AA) of the Texas League, before returning to the RedHawks.
"Keury made a statement from the first time he ever stepped foot in the batters box at Newman Outdoor, hitting three homeruns in that game," said Schlact. "He's gone on to be a power threat at the plate and a solid defender for us in the outfield as well. He was signed by the Seattle Mariners at the beginning of last season and rejoined us towards the end of the season. He's excited to come back to Fargo-Moorhead and ready to help make a run at a championship."
Last season with the RedHawks, De La Cruz batted .249, with 56 hits, 35 RBI and nine homeruns in 57 games.
Valerio first joined the RedHawks in 2015 after spending time in the Cleveland Indians minor league system.
"Charlie has been a constant behind the plate for us the last few seasons," said Schlact. "We're excited to have him back again. He's versatile on defense, brings a switch hitting power presence to our lineup and is a true leader on and off the field. With the addition of Chris Coste to our staff, we're excited to see Charlie continue to raise the bar on what he's capable of."
Last season, Valerio batted .275, with 89 hits, 47 RBI and 46 runs scored in 93 games. He homered 12 times and posted an on base percentage of .343.